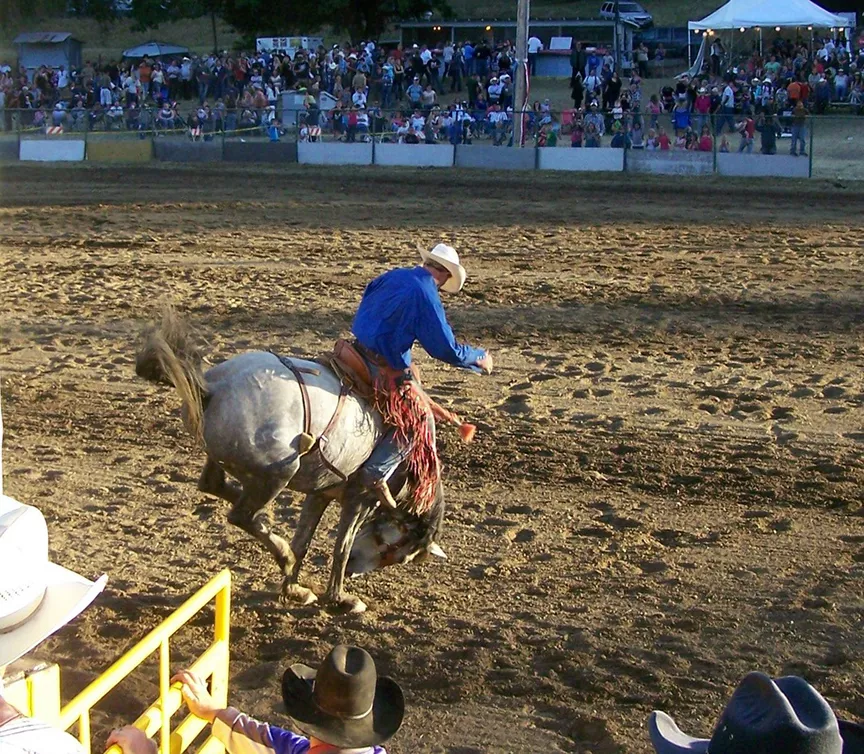 Photo courtesy of Garberville rodeo
Saddle bronc busts out
We all know you've been raring for a reason to show off your 10-gallon hat and shiny, new spurs, and on Friday, June 14, you'll finally have that opportunity. Saddle up your pony, grab your buckaroos and buckerettes, and head to the 56th Annual Garberville Rodeo.
The wildly western weekend kicks off at 4:30 p.m., Friday at the Greycliff Rodeo Grounds (just two miles south of Garberville) with the Open 4D Barrel Race, followed by the Bull-o-Rama at 7 p.m. The Bull-o-Rama challenges contestants to a one-handed, eight-second bull ride; if you like watching people fall, you won't want to miss it.
Saturday's events start early, with a pancake breakfast at 7 a.m., under the Garberville Town Clock (the big building with all the arrows and numbers). With your cowboy-sized hunger sated, you can meander over to Getti Up on Redwood Drive in Garberville for the crowning of the Rodeo Queen and Princess. That's right; rodeos are matriarchies. After the coronation, find yourself a comfy spot along Redwood Drive for the Rodeo Parade, starting at 11 a.m.
Rodeos, believe it or not, aren't just for grown-ups. The Junior Rodeo starts after the parade, at 1:30 p.m., with check-in from noon to 12:45 p.m. The competition includes riding, roping and barrel races. But it wouldn't be a kid's event without some raucous mayhem, so stick around for the Animal Scramble and Greased-pig Competition (which are exactly what they sound like: kids chasing hard-to-catch animals). For the smaller tykes, there will be a pony carousel and petting zoo. After the children's shenanigans, treat you and yours to a steak barbecue at 4:30 p.m. and then finish off the evening with some official bronco bucking at the California Cowboys Professional Rodeo Associations' Rodeo at 7 p.m.
The weekend draws to a close on Sunday with the California State Horsemen Association's Gymkhana competition, starting at 9 a.m. For more information on rodeo events or registration, head over to www.garbervillerodeo.org.