Polish it up, pop the hood and show it off. Auto Xpo is pulling into Fortuna. The rodeo dust has barely settled, and as the horse trailers and bull riders ride into the sunset, a fleet of classic cars rolls into town.
This is a weekend of vintage obsession, so it's only fitting there's an antique show in the Veteran's Building from Thursday at 3 p.m. until Saturday at 5 p.m. If that's not enough shopping for you, the Artisan's Faire is open in the Pavilion from 9 a.m.-5:30 p.m. on Saturday and 9 a.m.-3:30 p.m. on Sunday.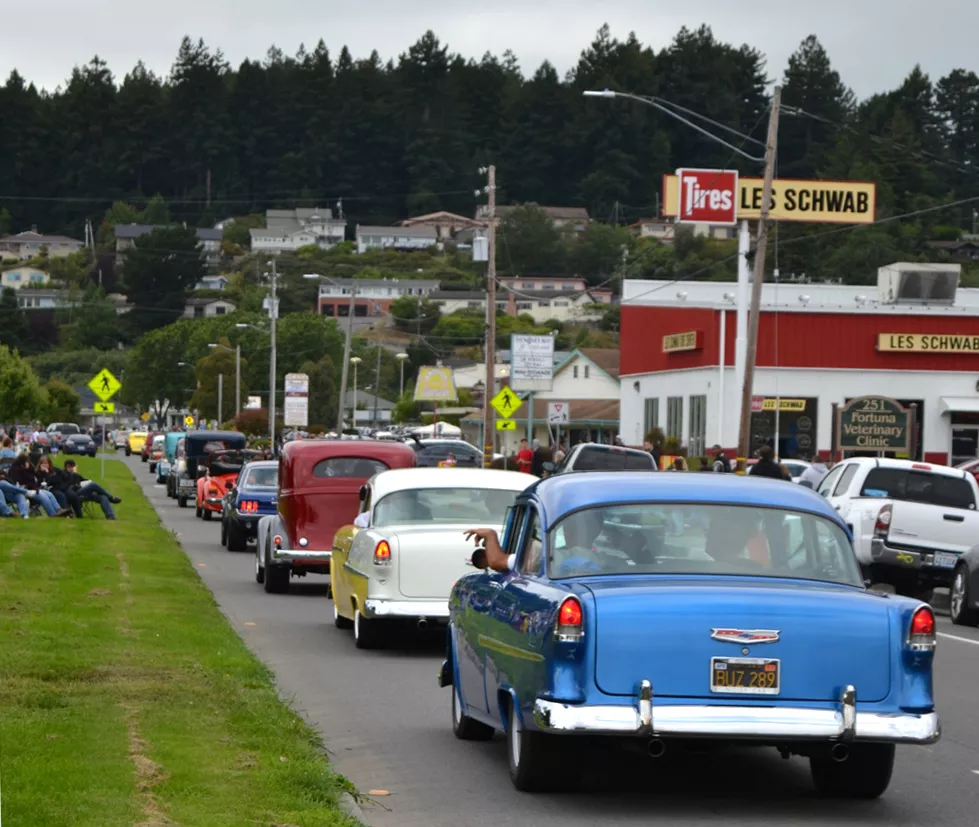 The traffic on Main Street, Fortuna.
Friday at 6 p.m. is when things really get started with the cruise, a slo-mo drive down the main drag for all the cars showing over the weekend. Get a good spot on the sidewalk and try not to feel bad about your own ride. When the last tailfin passes you by, keep the retro vibe going and pony over to the sock hop at the River Lodge at 8 p.m. You can play it cool, Daddy-o, but you know you want to grease your hair and win that costume contest.
It's not about winning, it's about trophies. Big, shiny trophies. The best of the best are getting theirs in Rohner Park at 10 a.m. on Saturday at the Judged Car Show. Get up close and personal with all those fine machines you saw cruising Main Street. Fortuna High will be looking very Rydell High with the Show and Shine/Vintage and Exotic Show from 9 a.m. to 4 p.m.
Once your car lust has been stoked, hang around Rohner Park for the swap meet and Car Corral, where you can actually buy a car (Friday noon-5 p.m., Saturday 7 a.m.-5 p.m., Sunday 7 a.m.-4 p.m.). Elsewhere in the park, hardcore antique engine buffs can geek out at the Hit and Miss Engine Gas Up all weekend, featuring old school flywheel industrial engines. Antique farm equipment will be on display, too, with a tractor pull from 1-3 p.m. on Saturday and from noon-2 p.m. on Sunday.
Burnt out on cars? Not until you get a whiff of the Burn Out Contest in the park at 2 p.m. Contestants will be judged on smoke, duration and crowd reaction, with bonus points for popping a tire. The weekend winds up with a poker run from Strongs Creek Plaza at 5 p.m. Sorry, the big barbecue in Rohner is for participants only, but you can always console yourself with pulled pork or kettle corn from the vendors set up all over town.
Then go home and start taking better care of your car. Who knows? That Hyundai could be a classic one day.