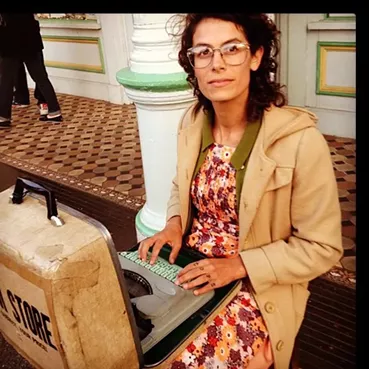 Frequenters of the Arcata Farmers' Market may have noticed something missing this year: No, the strawberries, quail eggs and mushrooms are still in abundance — but versification while you wait has gone onto that ethereal plain.
Well, not quite. Jacqueline Suskin, the oft-bespectacled proprietor of the Poem Store, took her lap-sized typewriter and lyrical mind to the sunnier climes of Hollywood, California.
And lo! There she is, below the fold on the cover of today's
Los Angeles Times
, bestowing paeans on the masses from her poem emporium at the Hollywood Farmers' Market.
According to the article, Suskin moved to Silver Lake several months ago and signed with an artist agency, which gets her gigs at weddings, festivals, galleries and bookstores. No word yet on whether any of her poems have been optioned.