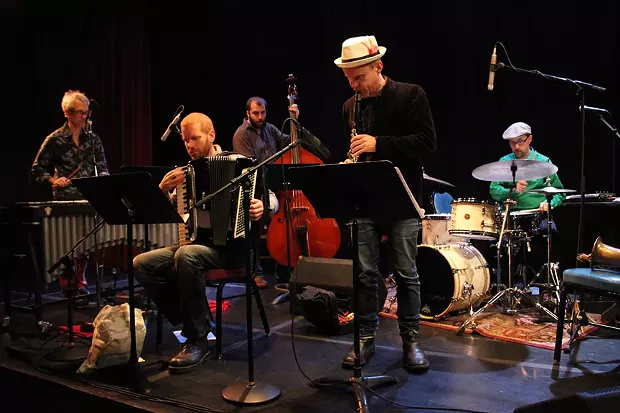 Bob Doran
The Claudia Quintet
The complex music of the Claudia Quintet relies on somewhat unusual instrumentation - including accordion and vibes, at times bowed - providing a dense, beautiful setting for drummer/bandleader John Hollenbeck's pieces. Innovative, improvised, at times carefully composed, sometimes not even written down, it's what we call jazz these days, for lack of a better word. And since the Redwood Jazz Alliance put on the show at the Arcata Playhouse, that will do.
Hollenbeck
is on drums, and occasional samples (as here),
Bob Doran
John Hollenbeck
Chris Speed
on reeds, sax and clarinet. (You might have seen him play with former local Trevor Dunn, Oscar Noriega and Jim Black in Endangered Blood.)
Bob Doran
Chris Speed, John Hollenbeck
Matt Moran
on vibes. (Also leader of the red hot Slavic Soul Party.)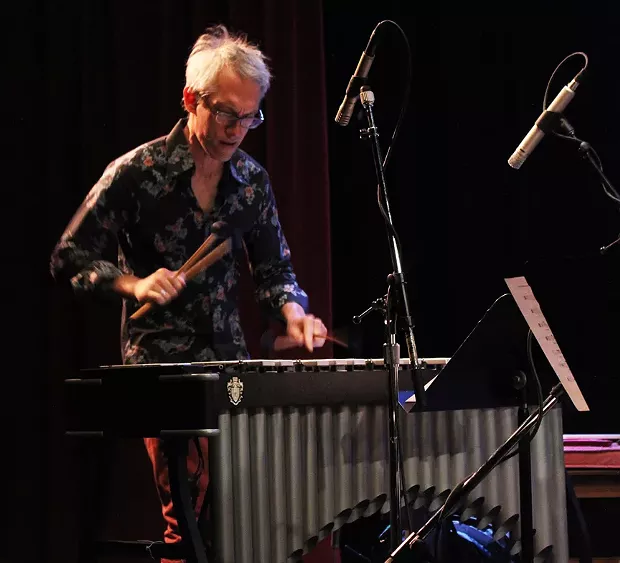 Bob Doran
Matt Moran
Red Wierenga
on accordion and Chris Tordini on bass.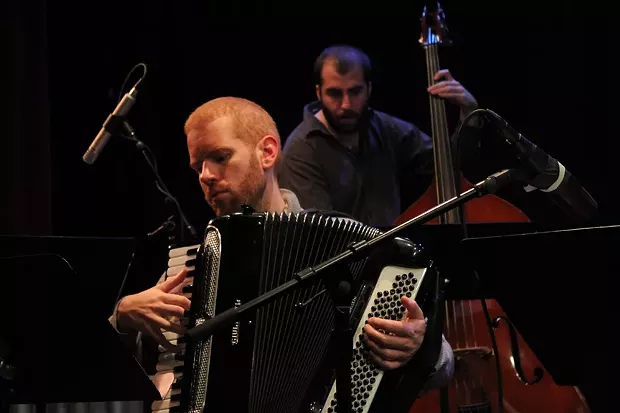 Bob Doran
Red Wierenga on accordion, Chris Tordini on bass
And as the RJA pointed out, no one in the Brooklyn band is named Claudia. We forgot to ask who she is, probably someone that Hollenbeck didn't want to forget.