Some Halloween fun is for grown-ups — and no, we're not talking about skimpy costumes. Sometimes we're looking for a good scare. The Kinetic Lab of Horrors is back again this year with sculptural arts and body parts. The freaky lab techs take you on a tour of the facilities on Eighth and N in Arcata from 7 p.m. to midnight on Friday, Saturday, Sunday and Halloween night ($10). It's a fundraiser for the Kinetic Race, and it's recommended for ages 13 and older, unless your kid is a straight-up gangster. Check out kineticsculpturelab.com for photos of last year and be honest with yourself about how much scare you can handle.
Blue Ox Millworks and North Coast Repertory are scaring the bejeesus out of people with the Haunted Mill tour from 8 p.m. to midnight Oct. 25-31 ($10). The tour, which promises "sexy zombies" — oxymoron? — benefits the theater, Blue Ox Youth and Community Radio. Children 12 and under must go with an adult who doesn't care if they ever sleep again. We're told that the bald gentleman in the posters is a lovely person, but he looks like he could make Hannibal Lecter pee a little.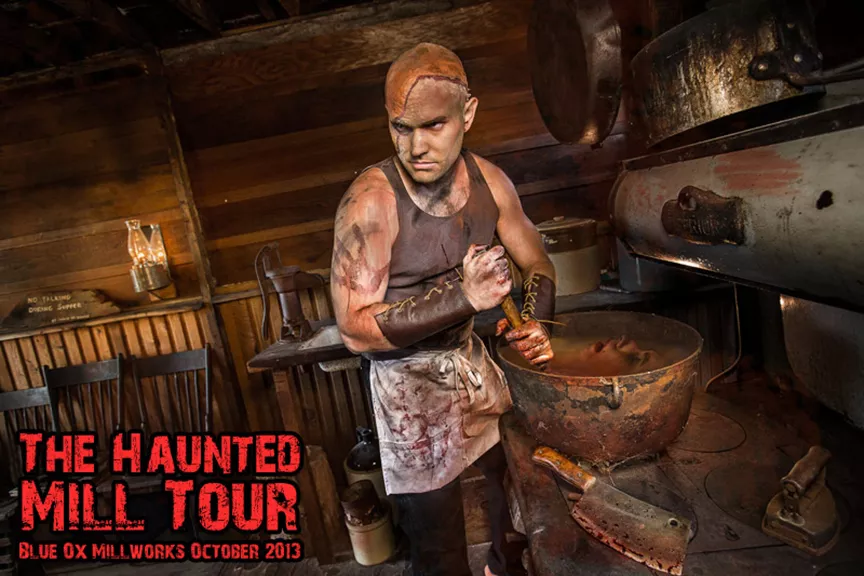 Landlocked terror too mainstream for you? On Halloween night, you can climb aboard the Humboldt Bay Maritime Museum's haunted 1091, a ghost ship rife with the greatest generation's undead ($5). It's strictly 13-years and up, and as with any visit to a place you might want to run out of, you'll need flat shoes, ladies.
For more upscale heebie-jeebies, the Morris Graves Museum of Art is hosting Murder by Dessert's Murder at the Museum event on Saturday at 6 p.m. ($75, $50 members). A ghost named Ralph is said to haunt the place in a suit and fedora (not a bad look to be stuck with for eternity), and guests are invited to discover if he's a wandering spirit or just a hoax. Either way, there's a buffet dinner.
Finally, you can surround yourself with actual dead people at the Sunrise Cemetery in Fortuna for Grave Matters and Untimely Departures at 1 p.m. on Sunday ($15) and hear tales from the underground while the sun is still up. Not that you're chicken.