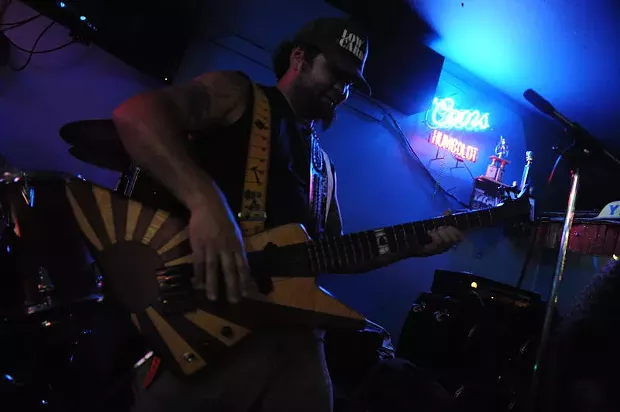 So how about that music? What music, you ask? Yes, it's true that we are experiencing the typical early January lull, but do not despair! The desert is not without its oasis. What's that over there? The sound of rock? Yea, salvation lieth ahead! This is not just any Johnny-come-lately conglomeration of drums, bass, keys and guitar, either.
Lord Ellis
combines the talents of, respectively,
Steve Bohner
(The Hitch, Magnum),
Roshawn Beere
(The Hitch),
Andy Sorter
(Grimace) and
Pablo Midence
(Dragged By Horses).
You ever find yourself hauling ass on 299, stereo blasting, tires screeching on the turns, cresting the Lord Ellis Summit to discover your brakes are out and all that lies between you and a fiery death is the grinding metal of your gears?
I certainly hope not as that would be an incredibly irresponsible way to drive! Don't you know that piloting a two-ton vehicle is privilege deserving of respect and caution? Have you seen the auto crash statistics in these parts?!
Ahem.
The good news is, you don't have to endanger your life and the lives of others to experience the adrenaline rush of a near-death experience among steep, rugged beauty. Lord Ellis will provide the vicarious thrill — for a mere $5 — at the Jambalaya Saturday night.
To tell us a bit more about the rock, drummer Steve Bohner:
NCJ: For the uninitiated, tell me about Lord Ellis's sound and how you arrived there.
SB: Well, I have played drums with Roshawn on and off for 15 years. Andy plays keys and is also a drummer (everyone's a fuckin' drummer these days). Pablo Midence plays guitar and writes the lyrics. One of these dudes usually brings a new song to band practice and we hash the thing out, each adding our own specific style and signature to the music. Once it's in a rough draft, Pablo begins the lyric process.
Might be backwards to some musicians who are more lyrically based, but that's usually how our songs are born. I have no idea who we sound like. Heavy Rock? A mix between Dragged By Horses and The Hitch? We get early Deep Purple sometimes, but I think it's more to do with the fact that we have a keyboard player than anything else. We're having a blast.
NCJ: You all have successful professional lives (I think) — why put all this energy into a band?
SB: Why surf? Why ride motorcycles? Why turn wrenches on hot rods? Why hunt for Bigfoot? I think once you've tried the music elixir it's something that sticks with you the rest of your life. I hope to be playing drums until I'm six feet under. It's hard to explain unless you have some hobby that you look forward to. We're all busy but all work and no play ... well, you know the rest.
We do! So be prepared for a tight and heavy rock 'n' roll onslaught. You'll want to buckle up. Also playing, Portland's hardcore punk group Raw Nerves and Humboldt County moshers Imperial Destructo. Show is 21-and-over.
Lord Ellis on Reverb Nation