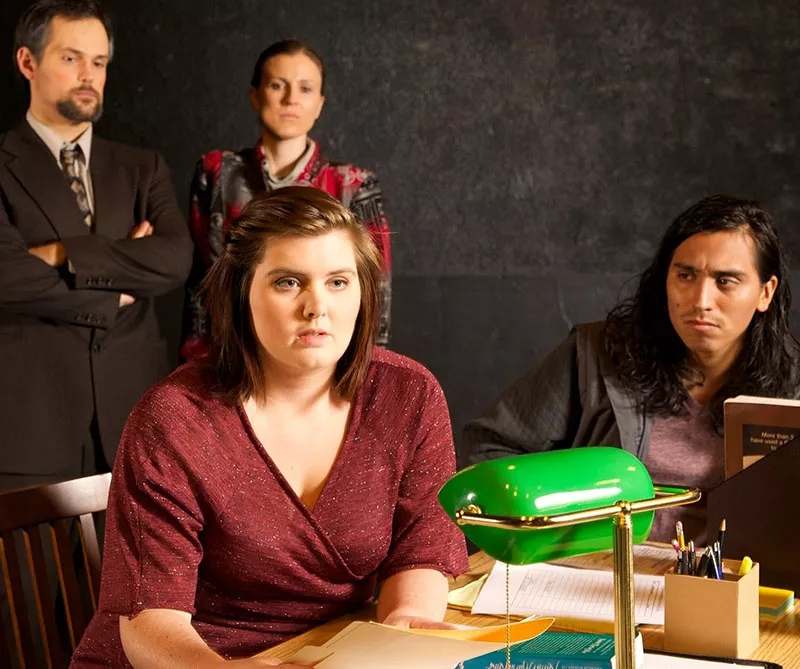 Courtesy of HSU
Office drama runs high after a racial incident on campus in Spinning Into Butter
A one-set play about an uncomfortable topic is a hard sell, so I applaud Humboldt State University's decision to stage Rebecca Gilman's
Spinning Into Butter
. The play about racism at a small New England college unfolds entirely within the office of one of the school's administrators, and it's not a "traditional" play about race. While a racist note to a student sets the story in motion, the play is more about the less overt racism built into our culture and institutions, and how the characters respond to their own prejudices.
Giovanni Alva brings an aggressive physicality to his roles, and as Patrick Chibas, a student pushed toward a minority scholarship, he maintains it throughout the show. This works for his character — when Patrick's actions feel almost too large for the space, you empathize with a young man trying to define himself within a narrow social narrative. Also notable is Galen Poulton in the role of campus security guard, Mr. Meyers, who invokes the type of wisdom and kindness born world-weariness. As one of the only characters who remains purely likeable, you are glad that Galen portrays him with such convincing charm. Mary May makes her HSU acting debut with a marathon portrayal of Dean Sarah Daniels, who is onstage for the bulk of the play and delivers lengthy, intense monologues. She plays many of her moments at the same intensity, and it would have been nice to see more variance in her volume and tone.
The lighting and set designs are particularly effective, an impressive debut for both lighting designer Andrew Buderi and scenic designer Jaren Sorenson. One scene with dean Daniels at her desk at night is rendered beautifully. The set surprises in a way that mirrors the themes of the play, but I won't say more and spoil it.
Spinning Into Butter
is Cassandra Hesseltine's first time directing at HSU. In various press releases and her director's notes she mentions she drew from both her background in psychology and her personal experiences with intersections of ethnic identity. The play is complex, and there were moments that felt like they were missed. It's hard to know how much is due to opening night nerves and what can be attributed to the director's choices. Everyone could have slowed down — in a play that is all about the dialogue, the words need time to sink in. But overall, the actors handled difficult material with respect.
I enjoyed the show, and it's lovely to see theaters embrace the challenge of presenting plays that are not necessarily "fun" to watch.
Spinning Into Butter
applies a lens to the issue of racism that we are not accustomed to examining it through. It feels like a waste to not provide space for a community dialogue after the show, but there will be an opportunity for reflection after the March 6 performance. If you're not able to attend that evening, bring a friend another night. The material deserves to be engaged with beyond just taking it in.
Spinning Into Butter
continues Thursday, Friday and Saturday, March 6-8 at 7:30 p.m., with a 2 p.m. matinee on Sunday March 9 in the Gist Theatre at Humboldt State University. Tickets are $10 general, $8 for students.