What do you need to know about
The Rebirth Brass Band
other than that the show is at Humboldt Brews, costs $20, starts at 9:30 p.m. and is 21-and-over? These guys are an international phenom. From the streets of New Orleans to points around the globe, The Rebirth Brass Band brings the funk so heavy it obliterates all else in the room. You can't not have fun. Go get your groove on.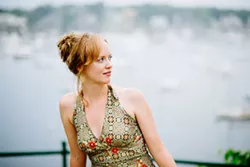 We return to the British Isles for an evening of Scottish fiddle music with the
Hanneke Cassel Trio
at the Arcata Playhouse. Cassel's charismatic fiddling has earned the native Oregonian honors, awards and a stellar rounding out of her trio, which includes Mike Block and Christopher Lewis. Hailed by no less than Yo Yo Ma as the "ideal musician of the 21st Century," Block is a pioneering multi-style cellist, composer and educator living in Boston. For his part, in addition to his work with Hanneke, Lewis has long been a fixture in the Boston indie rock scene.
Tickets are $15 general, $13 students and members. The show starts at 8 p.m., doors open at 7 p.m. Tickets are available at Wildberries, Wildwood Music or 822-1575.
UPDATE: Warm Soda, Big Tits and Dirty Pillows canceled due to car troubles — BUT — there will be live music. White Manna and other bands TBA will still play the Shanty tonight!
Last, but far from least, a chance to experience killer garage-pop-glam act Warm Soda at the Shanty, where the drinks are cheap and the vibe is forever rock'n'roll. How fun will this show be? I clicked on the band's "Renegade Mode" video and was sold five seconds in. Warm Soda's riffs hook a person from the get-go with direct lineage from way back with The Stones and Ramones to The Strokes and The Hives to Ty Segall and Thee Oh Sees — I don't normally like to compare one band to others, but this show is going to be so cool that I feel compelled to pull out all stops.

Along with Warm Soda, lead singer Matthew Melton's other band, Big Tits, falls more on the gritty, new-wave, early- punk side of things. Show starts 9-ish p.m., $5 cover, 21-and-over.

Take a 1:55 sample taste below: