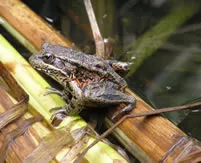 From the U.S. Fish and Wildlife website
The California red-legged frog, or Rana draytonii. Let's hope fame doesn't spoil him.
The California Department of Fish and Wildlife has tapped the California red-legged frog (
Rana draytonii
) to be our state amphibian. In other news, there is, in fact, such a thing as a state amphibian.
So far, the Sequoia Park Zoo doesn't have one of these little flippered fellows — which, according the the press release, inhabit wetlands from southern Mendocino to Los Angeles and are the largest among indigenous frogs in the western U.S. — but one hopes the state will be passing them out like cigars in celebration. Well, maybe not. California Fish and Wildlife says the species is considered threatened under the Environmental Protection Act. Evidently those red legs taste just like chicken, or they did to the gold (and frog) hungry '49ers who nearly pan-fried them to extinction.
So how did the frogs land this gig as croaking state laureates? It's who you know. Some elementary school kids in Salton City wrote Assemblyman Perez to make it happen.
A quick scan of the ca.gov website reveals that while we have a state animal (grizzly), bird (California valley quail) and flower (Golden poppy), there's still plenty more flora and fauna to stake out. State Elusive-Missing-Link-Man-Beast, anyone?