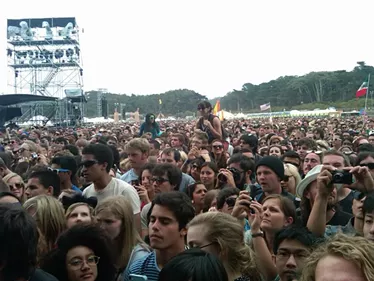 Kaylee Savage-Wright
The crowd at Outside Lands 2012.
1. If your little darling still wants to hang out with you, savor it. This year's event starts Friday, Aug. 8, but the best Outside Lands fest I went to was in 2009, because the two offspring I brought with me were 13 and 15, respectively. It was their first major music festival. They studied the guide. They brimmed with excitement. Awe shone from their sweet faces all day and into the night as Big Name Bands in Real Life played songs the kids had memorized from the radio. Ah, what a magical time.
2. Be prepared. Remember when they were toddlers and you took them to museums and art galleries and coffee shops and it all worked out because you timed it after naptime and always carried snacks and toys and managed to attend to their needs enough to keep a meltdown at bay? Channel that. Bring enough water — refillable bottles are key. Bring easy, nutritious food. Kind bars. Dried mango. Sandwiches that travel well — think camping. Insist they bring sweaters. In case. Make sure you eat and drink so you don't get cranky taking care of the little darlings. Have a plan in case you get separated — make them carry paper maps of the park on their bodies, because sometimes the cell service gets overloaded and phones don't work. "Meet here," you will tell them. "Here, see? Next to Choco Lands." Walk them to it. Point out landmarks. Agree on bands that everyone wants to see ahead of time. Get to those stages early so you can stake out a good spot. (Insist that everyone uses the restroom first. It's not a great thing to be standing within 10 feet of the stage and have your kid say, "I can't wait any longer!" leaving you with the choice of holding your ground or sacrificing it because who knows if he or she will ever make it back through the crowd alone?)
3. Hands down, the most pain-in-the-ass part is getting to and from the festival. Do not, repeat, do not try to drive and park. If you do park, do it out in the Sunset and hoof it in. If you're a bicycle-y family, take your bikes and ride them from wherever you're staying — if the thought of navigating SF streets doesn't give you a heart attack. Public transportation and shuttles can serve as a Plan A, but the sheer volume of people sometimes preempts that exit strategy. Plan B: walk. Everybody, wear your comfy shoes, accept that this is City Life and that sometimes, you have to suffer in the course of having fun.
4. Oh, yeah — have fun!
5. Don't think the magic will last — or that you will have achieved some sort of permanent "cool" status because you took them to a musical festival where they were able to see some of their favorite bands live and up close. The amazement will fade. They will still inexplicably refuse to do their own laundry. You are still their parent, not their new best friend. And when you take them the following year, they'll ditch you for their friends, who've shown up this time, leaving you to linger on the fringes, caring less about who's onstage than whether your child is getting a.) crushed in the crowd, b.) roofied, c.) both, d.) a good spot in front of the stage. Because this had better all be worth it. (It is.)
BONUS: Take a little cash for Outside Lands souvenirs. They will treasure those T-shirts, and you'll feel a little sweetness well up inside you when they wear them. That was such a grand time.
Check out northcoastjournal.com for Nick Savage-Wright's (yes, Son of Savage) "Beginner's Guide to SF Outside Lands Fest."