Avocados, yogurt, Cypress Grove Lamb Chopper I'd found, at all places, at Grocery Outlet. Half a tomato. A box of organic dried plums, also from the GO. I'd had this grand plan to pack enough food to last all weekend, even roasted some eggplant slices, but one thing and then another and I was already leaving too late to catch Phosphorescent
I first attended the Golden Gate Park fest in 2009 with my two younger children, 13 and 15 at the time, and came away full of vicarious thrill. Watching Silversun Pickups and Atmosphere through their eyes reminded me how music shapes your life at that age. At the end of one day, Nick wanted to see Pearl Jam up close, but Kaylee had wearied of the crowds. I ended up sending him into the throng of thousands alone while K and I watched from the press tent.
Would he get squished? I worried. What if his blood sugar dropped and he passed out? Would anyone notice? Would help come in time? Legitimate concerns, but what happened is, he used his skinniness and youth to squeeze to the front, where he ended up being crowd-surfed and caught Mike McCready's guitar pick at the end of the show. Pretty sure he still has it in some small box of treasures.
The next year, the kids preferred to hang out with friends, so Bobby and I meandered between bands, debating the benefits of being smushed up close to the stage where you can actually see the people you're there to see (me) vs. being comfortably in back, where the sound is better and the view more comprehensive (him).
The kids continued going every year after that, courtesy of press passes through the Journal (blogging through the ages), but Bobby and I skipped out, opting to watch Giants' games at Underdog over cocktails and Nick's Crispy instead. Also, the DeYoung.
But this year, my heart skipped at the line-up. Tom Petty and the Heartbreakers?! I've loved Tom Petty since I was an adolescent singing along to "Refugee" in my poster-slathered bedroom. At the time, Petty was considered new wave and played alongside Blondie and Joy Division on KROQ and 91X, the stations that shaped my youth.
Also, Tom Petty and the Heartbreakers headlined the first Outside Lands in 2008, which I had a ticket to, but ended up unable to attend. I sent my little brother instead. He had a grand time, wrote about it for the Arcata Eye and that was that. But now, history could be rectified. Only trouble was, Nick had already scored one of the two press passes through the Journal, so while I could go with the other, I'd be going alone.
So here I was, random foods in the mini-Igloo, reasonable clothes in my travel bag, some sunscreen for my face, a toothbrush, not much else. I meant to bring my wetsuit in case I could squeeze in a surf. I also intended to bring a hoodie – San Francisco weather requires layers – the lack of which would prove more of a problem.
The ongoing wildfires sidetracked me, first because the sight of helicopters circling from pond to over the hills captivated, then because the base camps sprawled alongside the highway impressed. I stopped to take photos and video.
Once that thrill subsided, the realization that I still had hours to go had me regretting my stops, especially when traffic in Willits slowed to a crawl due to roadwork. I let my breath out when I rounded the curve and the Golden Gate Bridge came into view. Minutes later I was double-parked in front of my friends' home in the Inner Richmond, dropping off my stuff in advance so I could begin the parking nightmare – except parking opened up right across the street.
I paused to consider the thrill that one experiences when landing upon perfect parking in San Francisco. As if everything in the universe unexpectedly and suddenly has aligned in your favor. Buoyed, I hoofed it to the park.
After navigating the maze of entry, I picked up my press pass – a magical wristband allowing me to bypass the unwashed masses and also access VIP areas – proceeded into the festival. As I trod west, rhythm pulsed through the air: Chromeo. I walked faster.
And there they were. Legged keyboard in all its glory. Beats bumping, people screaming – because the band demanded, "Let me hear you scream!" – and ecstasy winning the hour.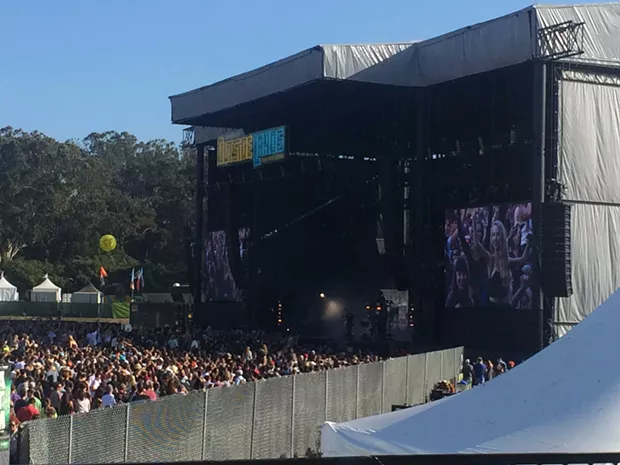 Chromeo from the press tent. Shoulder-rider on the big screen.
Minor annoyance: David Macklovitch praised all the ladies riding high on men's shoulders. As an averagely-heighted person who prefers to see the band over staring at the back of someone's head for an hour, any increased impediment to line of vision is an affront. If I were to design a concert space, I'd reserve a front zone for those under, oh, maybe five-foot-four? And anyone over six-foot-two would have to be in the back. We could have a special side area for mixed groups. (Yes, I know some tall people are considerate. You should talk to your brethren who are ruining it for all of you.)
Checked out the press tent, decided the "free" part of the free beer was reason enough to set aside my general preference for almost any other type of booze-related beverage, and then set about exploring – after using one of the VIP restrooms, which are glorified porta-potties, multi-units in trailers with running water. Sort of like if you had a bunch of airplane restrooms packed together on wheels. Definitely a step up from the nastiness of a regular porta-potty, but ladies, if you still pee on the seat, you're making it gross for all of us. Why is it so impossible to figure out that, if we all sit down, the seat stays pee-free?
Being able to see the band, being able to relieve yourself comfortably. It's amazing what people will pay to attend a festival with neither of these issues guaranteed. (Suckers.)
My magic wristband and I strolled through the grounds. Esquire's "Sip and Shave" booth made me wish I were a man, or at least able to temporarily grow a beard so that I could sit down and be pampered for a minute, but alas. I noticed Oakland clothing line fiftyseven-thirtythree once again in attendance and bought a long-sleeved, hooded T-shirt with a gorilla and giraffe on the front because I was a.) worried about getting cold (see "things I forgot" paragraph earlier), b.) pleased to see that fiftyseven-thirtythree was thriving. They do cool hand-screened art designs on non-sweatshop clothing right across the bay in Oakland. I'd bought Kaylee a T-shirt when we'd attended in 2009, so nostalgia propelled my purpose as well.
Land of dreams. Of chocolate.
I wandered into Choco Lands. Oh, the choices. The smell of pot emanates through the fest at all times and here I was in stoner nirvana. A Guittard "liquid" chocolate bar? A chocolate French macaron? Chocolate ice cream? I opted for an Epic chocolate crackle cookie and it was. Oh, it was.
"I just want back in your head" echoed across the park. Tegan and Sara! A few minutes later, I was brushing the last of the powdered sugar from my lips and standing in front of the Twin Peaks stage among the most adorable fans I've ever been standing among. Twenty-somethings everywhere, boys and girls, singing, kissing, swooning every time Tegan or Sara joked between songs. Best of all, this crowd was a polite one, which enabled me to squeeze through to a decent vantage point for the next act, Arctic Monkeys.
Whose fans were not as polite. The moment Tegan and Sara wrapped up, a swarm of people united in their passion for sexy Brit-rock pressed forward. Hard. I held on to my bag and my position and soon we were as packed in as packed in could be. We would be like this for the forty minutes between sets.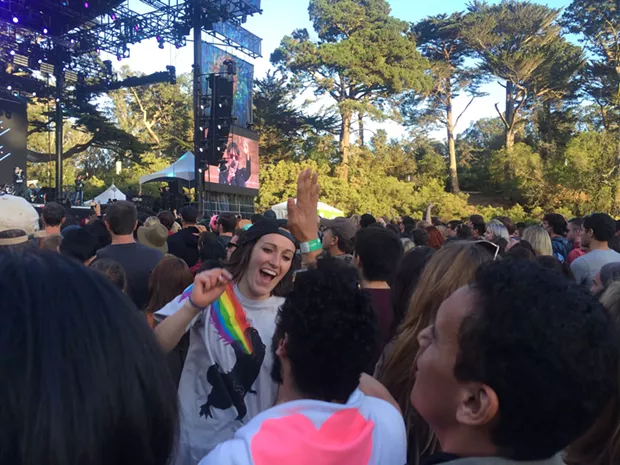 In 2009, Nick, Kaylee and I had managed to get all the way up front for TV on the Radio, Atmosphere and the Dead Weather, all in a row. (Nick left to see Modest Mouse at some point.) I revere that experience as one of my all-time favorites. Being in such close proximity to greatness with my children, sharing it together – we parents live for that. For a few hours, all the family squabbling and failed attempts at perfect mothering fall away. I sighed and looked around. This wait was lonely.
Next to me, a twenty-something pulled sunscreen out of her backpack and handed it to her boyfriend. I admired their sense of safety, but was a bit confused as we were only a half hour from sunset. Then he unscrewed the lid and squeezed wine into her waiting cup. Oh. Nicely played.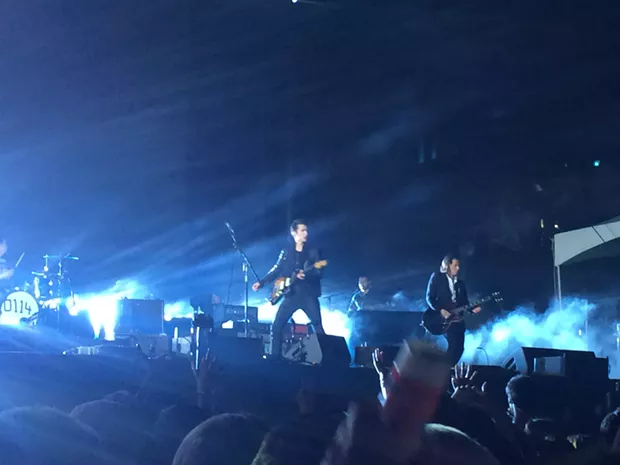 At last, the stage lights dimmed, the opening chords of "Do I Wanna Know?" launched and Alex Turner emerged forth in all his greased-hair, leather-jacketed, tight-jeaned glory. Tipper Gore was right. Rock'n'roll sure does equal sex. (To each their own, of course. The case could be made that some of us fall for a bad boy persona that's been cliché since Elvis first gyrated and that Turner's get-up is as much Bowser as it is Brando, but whatever. It worked in this context just fine.)
My infatuation lasted half the set before giving in to fatigue. I needed to get out, get to my home for the night, a place where I could take off my shoes, brush my teeth and stretch out on a couch. Horizontal, that would be a good way to be.
Traversing through the mob required channeling Newton's first law of motion: stay in it. I murmured, "Sorry," a few times, but mostly I just shouldered through, eyes downward searching for places to land my feet and then my body would follow. Plastic cups crunched beneath every step – the litter generated amazes me. Who just throws stuff on the ground? Righteous indignation propelled me harder – and I should point out that the Outside Lands organizers provide well-marked containers every few yards to enable proper trash, recyclables and compostables disposal. They reward people for turning in such items to a special tent full of treats. They try. Perhaps if every attendee had their own personal trash valet?
Free at last, I ducked through the festival exit, winced at the blisters blooming across my toes, then grinned as "I Bet You Look Good on the Dance Floor" rolled through the trees.
Check out parts two and three of Jennifer Savage's Outside Lands recap at her blog,
early morning fog, partial clearing.