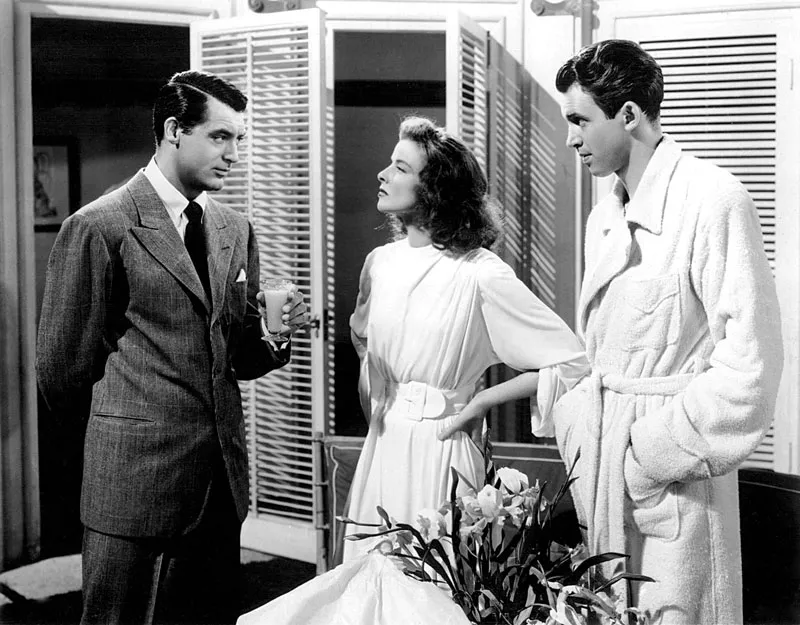 In old Hollywood rom-coms, the men wore suits, the women wore the pants and everybody talked fast. And how! It was better living through chemistry — nothing like comic timing, hatpin-sharp wit and a good fight to fan the flames. Try and keep up when the Humboldt County Library kicks off its Screwball Comedy Film Series on Tuesday nights in January at 6:30 p.m. (free).
It all starts with the romantic quadrangle of George Cukor's The Philadelphia Story (1940) hosted by Charity Grella on Jan. 6. As a headstrong socialite, Katherine Hepburn banters with a reporter (James Stewart) and her ex (Cary Grant) on the cusp of her wedding to some perfectly suitable fellow who just isn't Cary Grant.
Need more evidence that Grant is the most charming ex-husband a girl could hope for? Learn about The Awful Truth (1937) with host Michael Cooley on Jan. 13. In this one, directed by Leo McCarey, Grant and the hilarious Irene Dunne are headed for divorce court and scrapping over custody of their bouncy terrier.
Grant is after his ex again in the Howard Hawks classic His Girl Friday (1940) hosted by yours truly, Jennifer Fumiko Cahill, on Jan. 20. This time it's his ex-reporter and ex-wife Hildy, played by motor-mouthed Rosalind Russell. She's on her way to the altar with a new fella when a story breaks and she's back in the cutthroat, cigar-chomping boys club. Like a boss.
Closing out the series is the mother of them all, Frank Capra's It Happened One Night (1934) hosted by Bob Doran on Jan. 27. Claudette Colbert, as an heiress on the run, teaches a freshly canned reporter played by Clark Gable (whose eyebrows are the window to his soul) a thing or two about hitchhiking and back-sassing in this flirtatious road movie.
See 'em all and up your game.
— Jennifer Fumiko Cahill