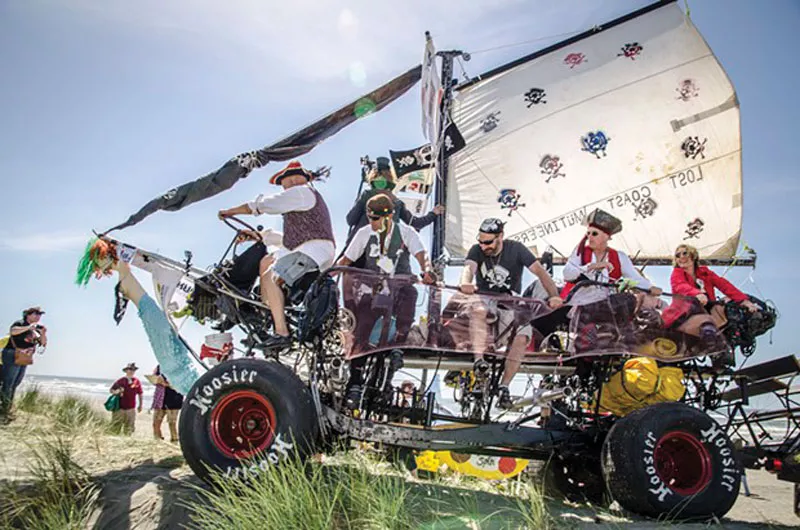 The pleasures of the Grand Kinetic Championship are many. First, on Saturday, May 23, there is the carnival atmosphere on the Arcata Plaza as costumed racers prep their craft for the noon start of the race. Rutabaga Queens are shamelessly lobbied/bribed and spectators mill around, gawking at giant sharks, shoes, mollusks and spaceships. Stand back and admire the creativity, humor and sheer obsession, then step closer and wonder at the engineering: Each one of the 100-percent-human-powered contraptions has to hold up to the 42-mile race and a voyage in the waters of Humboldt Bay.
Once you follow the crowd to the Manila Dunes and the racers are barreling down Dead Man's Drop, it's all about rubbernecking. Somebody is taking a spill here, and it won't be pretty. Be sure to slather yourself in bug repellent so you don't miss any action swatting away mosquitos.
Likewise, not all will stay afloat after launching onto the bay from the marina by the Wharfinger Building on Sunday, May 24 starting at 9:30 a.m. Back on land, the drama picks up again with the uphill climb of Loleta Hill and the teeth-gritting downhill. After all the sweat and suffering, line up on Ferndale's Main Street from 1 p.m. on Monday, May 25 for the cathartic race across the finish line and the conferring of glory.
— Jennifer Fumiko Cahill