Mad Catchy at the Logger Bar


Let's start north and work our way down. At the Logger Bar,
Let it Fever
, led by the talented and prolific
Ellis Wallace
– dig the latest track, "Young Girls," below and don't be surprised when you're singing it all day – along with
The Monster Women
and the
Lost Luvs
, a "reverbilicious grrl group" starring members of
Automatic Pink
and the aforementioned Monster Women. Spacy rock 'n' roll! Music at 9 p.m., free, 21-and-over.
Pop Star & Reggae Royalty at the ATL


The Queens of the Islands Tour
arrives at the Arcata Theatre Lounge with Hawaiian pop-folk-songwriter star
Anuhea
and Jamaican reggae songstress
Etana
. Anuhea is a major presence on the islands with multiple hit songs in heavy rotation, favorable critical comparison to fellow islanders Jack Johnson and Bruno Mars, and the distinction of being specifically requested to perform for his Holiness, the Dalai Lama.
Her tour partner,
Etana
, has faced challenges as a woman in the reggae world that her male counterparts do not. In a press release, she explains, "It seemed like females were never dealt with fairly. They were still paid less than men, disregarded as not being important on the flyer." Etana and her management set out to teach people in reggae "how to treat a female artist."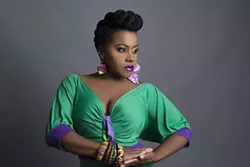 She succeeded, becoming the first female to achieve a Reggae Billboard #1 album in 17 years with I Rise, produced by Jamaican luminary Clive Hunt (Peter Tosh, Rolling Stones, The Wailers, Chaka Khan, Grace Jones, Jimmy Cliff). The album reflects the singer's ongoing maturity while maintaining the R&B-inflected take on reggae that she's known for. "Over the years I've learned a lot and in the learning process came a lot of pain and struggle," Etana says. "And to see the growth and see hard work pay off felt really, really good."
Doors open at 9 p.m. Tickets are $20 advance at Wildberries, People's Records and The Works, $25 general. The show is 21 and over.
Indie Darlings at Siren's Song
Let's go with the promo descriptions here, because I find them endearing:
"Floating out of the dusty tombs of Eureka,
Coffin Moth
. Creeping from the grey skies of Arcata,
Smooth Weirdos
. Lurking from the muddy banks of Humboldt Bay,
Dead Drift
. Growing from the misty redwoods,
The Mother Vines
."
Yes, it's a local good time at the Siren's Song Tavern, $3, all ages, 8 p.m.
And here's Dead Drift doing the Stones, vintage punk style –