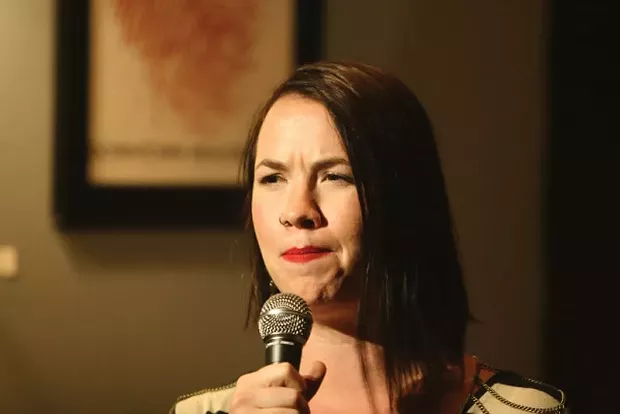 Courtesy of Redwood Comedy Festival
Comic Ash Fisher.
Hey, wanna hear something funny? Then hurry up and get a ticket. The Redwood Comedy Festival is splitting sides again in Fortuna on Friday, June 12 and Saturday, June 13 ($5 door Friday, $25 door Saturday, $30 two-day pass, $175 two-day VIP table for four with wine). Some 48 comedians from around the country are in the lineup, so somebody is bound to tickle your funny bone.
On Friday night, catch grown-up class clowns all over town with shows starting at 8 p.m. and 10:30 p.m. at Funky Monkey, L's Kitchen, Springville Steak, the Playroom and Time Out Sports Pub, and at 10:30 p.m. at Eel River Brewery. Just pick a venue, grab a seat and watch strangers turn their family dysfunction, failed relationships and wry observations into a fun evening out.
On Saturday night, work on your core by belly-laughing at the River Lodge. Over a dozen comedians hit the main stage at 6:30 p.m. for the game show. Then it's a marathon of stand-up comedy with nearly three dozen performers on the mic from 8 p.m. to 12:30 a.m. Don't heckle (everybody hates it — everybody) and don't blink, because you never know who'll turn out to be the next big thing.
— Jennifer Fumiko Cahill