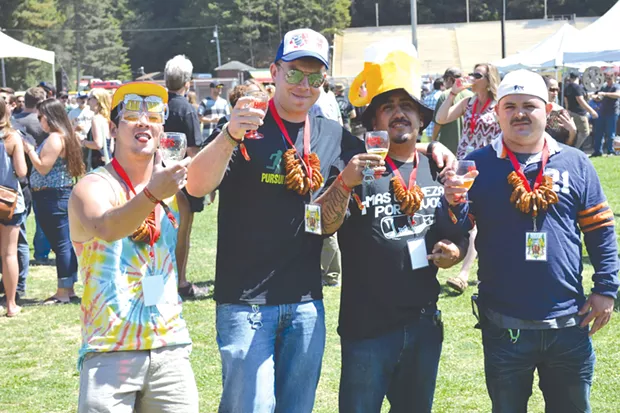 It's late August, your tan is starting to fade, students are arriving by the busload, Starbucks is already boasting the arrival of Every. Thing. Pumpkin. Dear God — not the end of summer! If this is you, fear not, fair weather friends, there's a festival to cure what ales you.
This Saturday, Aug. 22 from 1 to 5 p.m. in Fortuna's Rohner Park, 35 breweries featuring more than 125 beers will do their best to make sure you get happier by the hour. Grab your shades, your lawn-chair and your designated driver. It's time for Hops in Humboldt ($45, $35 advance, $10 non-drinker).
In addition to the stouts, lagers and porters that are yours for the downing (pace yourself), the event features Beer Games, like beer bottle ring toss and Drink-O (think Plinko) for prizes. For the serious minded, there are the esteemed Hops Awards in categories "Best of Hops," "Mayor's Choice" and "Best in Humboldt." Peruse local crafts and provide a nice foundation for all that beer at any of the eight food vendors selling pizza, pretzels, Indian tacos, Mexican food, kebobs and more. While you're drinking and dining, Jimi Jeff and the Gypsy Band, Doug Fir and the 2X4's, Beau Gardner, and April Moore and Ranch Party provide the soundtrack. Organizers suggest you bring a chair or blanket, cash for food, and, oh yeah, don't forget your ID! But, please leave kids and dogs at home. If you can't round up a designated driver, transportation from Fortuna to McKinleyville is available via Redwood Transit for $3 and free shuttles run throughout Fortuna. Summer's not over yet.
— Kali Cozyris