It's a soup-er weekend for engine lovers as classic car fans and biker baddies strut their struts at two very cool events that raise money for two very cool organizations.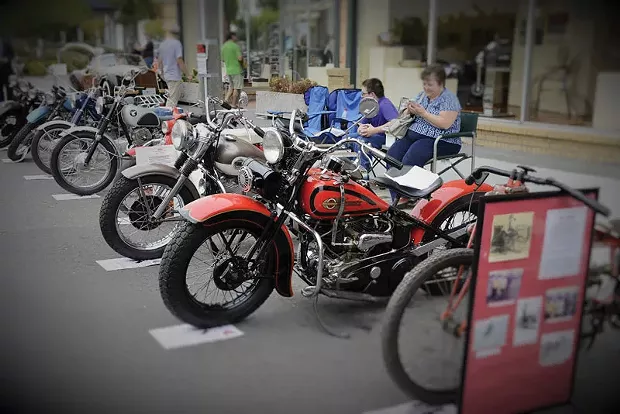 The good times roll into Eureka Sept. 10 to Sept. 12 for the 22nd annual Cruz'n Eureka. It's three days of fenders, food and fun kicking off Thursday, September 10 at 6 p.m. with a poker run starting at the Eureka Inn and ending at Fresh Freeze. Friday, from 11 a.m. to 3 p.m., attendees can peek under hoods at the Show and Shine lined up between Fourth and Fifth streets, then snap up their collars and smooth down their skirts for the cruise through Old Town at 6 p.m. Afterward, sockhop over to the Eureka Theater at 7 p.m. for American Graffiti, George Lucas's semi-autobiographical portrait of a group of teenagers' final day of summer and freedom featuring "great cars and a great soundtrack" ($5). On Saturday, the fun revs up again from 10 a.m. until 4 p.m. in Old Town with another Show and Shine, raffle, vendors, swap meet and more. The Car Show Awards take place at the Gazebo at 3 p.m. Cruz'n Eureka is a benefit for the Boys and Girls Club of the Redwoods.
If you take your thrills on two wheels, then squeal over to the Black Lightning Motorcycle Café for The Moto Envy show Saturday, Sept. 12 from 3 p.m. to 7 p.m. (free to drool, $20 to show). It's exactly what it sounds like: bikers showing off their sweet rides to the envy of all. Awards are given for Overall Most Envied, People's Choice, Vintage, Custom, Sports/Racer, Rat and more. Listen to music, take part in a slow race (with prizes!), and lay down some Jacksons for the Phoenix Project Streetfighter raffle ($20 ticket). Those gearheads are giving away a customized Ducati 748, y'all. All raffle proceeds benefit CASA of Humboldt.