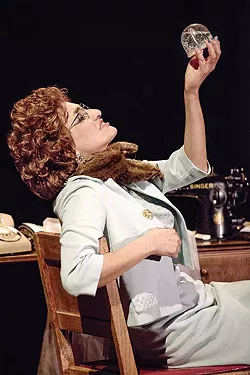 Sometimes the craft we experience this time of year isn't of the yarn and wreath variety, but rather that of staging, scene and Stanislavsky. Theater students from two area schools — Dell'Arte International and Humboldt State University — have dug deep and brought forth their best and it's time to give them props. Cue the lights.
HSU's Anton in Show Business features all-female cast playing characters of both genders in this satiric comedy directed by Rae Robison. Catch the "madcap comedy that follows three actresses across the footlights, down the rabbit hole and into a strangely familiar Wonderland that looks a lot like American theatre" on Friday, Dec. 4, Saturday, Dec. 5 and Thursday, Dec. 10 at 7:30 p.m. at the Gist Hall Theatre ($10, $8, limited free seating for HSU students).
Next, take a look behind the facade with Dell'Arte's MFA student show, The Character Projects. Running four days and featuring students from Denmark, Sweden, Greece, South Korea, India, Zimbabwe and the U.S., the show is the culmination of the students' study of the transformation of actors through their characters and how plays take shape from the performers' imaginations. Catch the magic Dec. 10-13, 8 p.m. at Dell'Arte's Carlo Theatre (pay what you can).