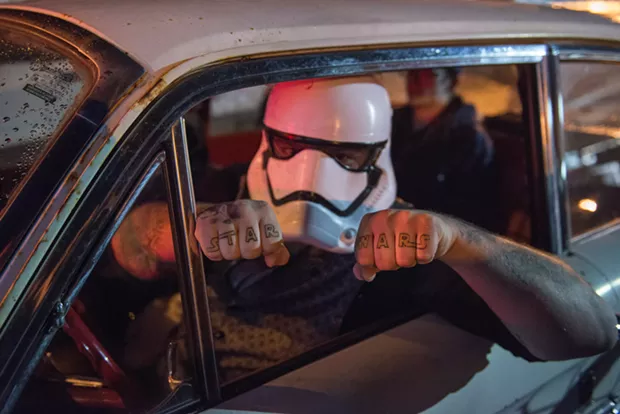 Mark McKenna
The Force is strong with this one.
Wow. I mean ... Just... Wow. I was ready to roll out the Star Wars puns and unleash all kinds of Jedi-like cleverness on this post, and then comes this picture of local Tattoo artist Justin Love with the helmet and those knuckles. Oh, and what's that he's driving? It's a Ford Falcon. Well played, sir. Well played.
Love was one of many who braved the cold, wet dreariness that was Humboldt's Thursday night to check out the much-hyped local premier of
Star Wars: The Force Awakens
at Broadway Cinema, where a line stretched around the building well in advance of the opening screening. There were storm troopers, a Yoda beanie and the most aDarthable family you'll ever see. (Sorry, just couldn't help it).
Local photographer Mark McKenna was on scene taking it all in and shared the following slideshow. (Those KNUCKLES!!!)