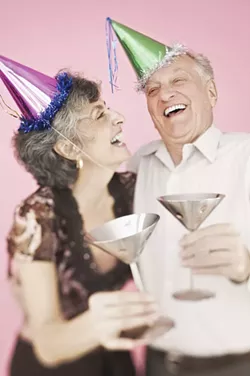 New Year's Eve ... it's time for your last hurrah. Come Jan. 1, all your bad habits will be a thing of 2015, right? Riiiight. No really, right. You mean it this year. Here's where you can tip your glass to Father Time and pinch Baby New Year on his little bottom for luck. And remember, should auld acquaintance be forgot and never brought to mind, make sure you designate a sober driver for the evening beforehand.
On Thursday, Dec. 31, the Sapphire Palace at Blue Lake Casino comes to glittering life when Portland's fabulous drag performers, Caravan of GLAM, take to the stage and take you through the decades. It's high-kicking fun. Pressure Anya provides the sounds with visual styling by Marmalade Sky. Show starts at 9 p.m. ($35 VIP, $25).
The name of Cher-Ae Heights Casino's event at 9 p.m. says it all: Totally Awesome '80s New Year's Eve with Dr. Squid (free). If you can't have a good time at this one, you should probably just stay home and watch the ball drop on TV with your cat. And your grandma.
Things get rip roaring at the 1920s-themed New Year's Eve Glitter & Gold party at Bear River Casino with party favors, a balloon drop and music by the Undercovers and Lighting Boom Productions (free).
Scotia Inn's ritzy shindig takes place from 7 p.m. to midnight with appetizers, party hats, a jazz band, and a glass of bubbly on the house at midnight ($25/person, $45/couple).
What about the kids? They can have fun at the RampArt New Year's Celebration at RampArt Skatepark from 9 p.m to 1 a.m. ($15). No Champagne toast, but plenty of live music, skating and good times.
And if you want to dance your way into 2016 as a family, head to Redwood Raks from 6 to 8 p.m. for the Family-Friendly New Year's Eve Party complete with disco lighting, pot luck dinner, a balloon drop and a bouncy house ($8).
See you next year.