Mark Larson
Brett Walters (aka Rocket Boy Brett) paused during his tag-team match to soak in support from his fellow HSU students and friends and The Marching Lumberjacks band.
Brett Walters is a wrestler, not a fighter. Watching the bespectacled 6-foot-3-inch, 169.5-pound Humboldt State University student and professed pacifist carefully peel a tangerine with his long fingers, it's a stretch to imagine him calling himself Rocket Boy Brett and launching himself at some snarling tough guy in in the ring.
"I get that a lot," he says. "And I try to make that an advantage." On Saturday night, Walters pulled on a pair of sparkly white and gold tights adorned with an alien, a peace sign and a Bigfoot, climbed over the ropes at Redwood Acres Fairgrounds and threw down as the only Humboldt County local against touring IHWE wrestlers. (See the slideshow at bottom for Mark Larson's blow-by-blow footage of the event.)
Back home in Simi Valley, Walters got hooked watching pro wrestling on TV as a kid and started going to some smaller live events. In high school he found himself a mentor and, after begging his mother for wrestling lessons as a graduation present, started taking classes at a local gym.
Oddly, it was wrestling that brought him to Humboldt. A promoter friend called him to do a Humboldt County Fair show with some masked lucha libre wrestlers, and he "fell in love with Humboldt." So he applied to HSU and moved north, despite paltry two wrestling events a year here. Still, Walters says he stays in fighting shape by walking to and from class, hitting the gym and maybe practicing rolling on the football field like he did a few days ago.
Rocket Boy Brett, Walters says, is from the moon. He created his character and backstory partly to fit his wrestling style, which, he says, involves taking advantage of gravity. "I like to do a lot of moves where I fly through he air … coming off the top rope … landing outside the ring." All of which sounds pretty dangerous, though Walters says he's only gotten hurt once in somewhere around 100 matches — bruised ribs from taking a hard kick. "I thought they were broken," he says.
Walters says safety is priority among wrestlers, who "train for hours on end." When asked how much of the bouts are staged, he tucks a dirty-blond lock of hair behind his ear and grins. The wrestlers know who'll win and how long the match will last, but "the rest is up to us. … Years ago I would have been blacklisted for saying that." But now, he says, the industry is becoming more transparent. "You always have a story you want to tell. When the crowd buys into it, that's amazing." He paraphrases pro wrestler Mike Foley, describing the events as "an athletic endeavor combined with performance art."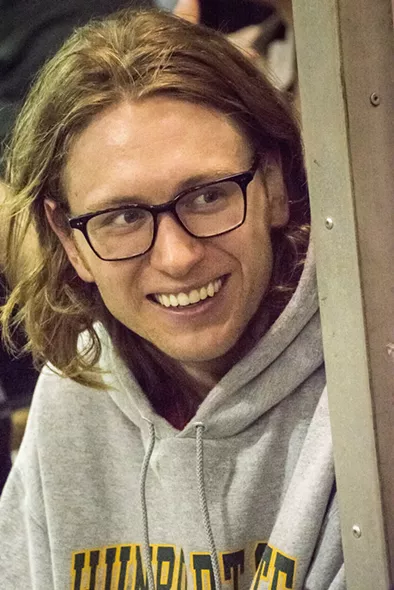 Mark Larson
Brett Walters off duty, back in his glasses and hoodie.
The operatic rage is a performance, too. Walters shrugs his narrow shoulders and smiled into his lap. "It's funny, when I'm out there performing it feels natural but I could never be like that outside the ring. I consider myself a 100-percent pacifist." In the ring, he notes, everyone there has signed up to wrestle; there's a "mutual respect," and despite whatever smack talking or beef there might be, it's a fraternal vibe. He says the last real fight he was in was in his freshman year of high school. "I didn't do too good," he says with a chuckle. "Might be what turned me off to it." Mind you, he might get mad if he gets kicked hard enough, but Walters says he still wouldn't wild out. "If I wanna start really throwing down in the ring, I'm a skinny guy — I don't think my chances are too good."
The night of the match, a rowdy house full of fans of all ages were screaming for or shouting down the wrestlers in the ring. Good guys and bad guys alike took slams to the mat, were thrown against the ringside ropes and pushed onto the concrete floor outside the ring. Many were waiting impatiently for Walters' appearance as Rocket Boy Brett in his tag-team match. Some were friends from the residence hall or campus co-workers who recruited The Marching Lumberjack band to come out and play Rocket Boy Brett's hype music.
The tag-team match of Rockin' Ricky Gibson and Rocket Boy Brett vs. Daniel Torch and Kassius Koonz featured impressive aerial jumps by Walters. There were, of course, some predictably drawn-out near-pins and reversals before the last-second victory led by Rocket Boy Brett.
After his match and a cool-down, Walters donned his Clark Kent glasses and his HSU hoodie, joining his friends in the audience. He was hardly recognizable as the high-flying, body-slamming pro-wrestler who'd stood roaring on the corner ropes just a few matches ago.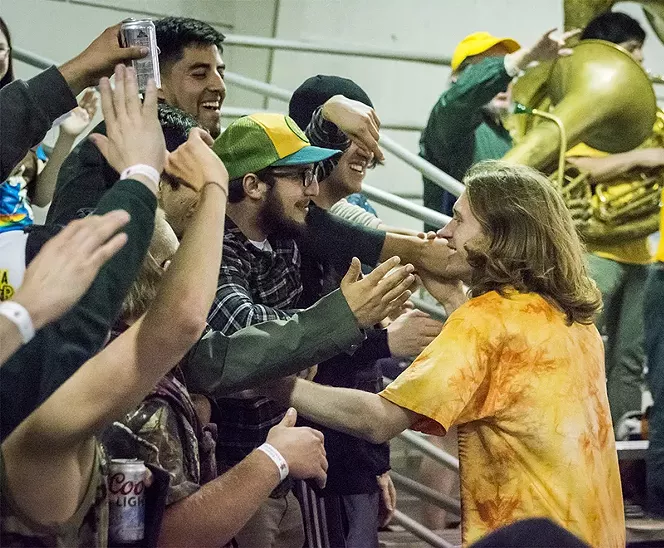 21 slides