Mark Larson
Landon Porter, 7, Crescent City, enjoyed the horseback rides offered by Hailey Ford, McKinleyville and the Redwood Creek Buckarettes. The group offers guided tours in Redwood National Park.
The former log deck of the California Redwood Company located just north of Orick, once covered with stacks of huge old-growth redwood logs, was filled on Sunday with the vehicles of visitors arriving for the 2016 National Park Service's Centennial Celebration in the Redwoods.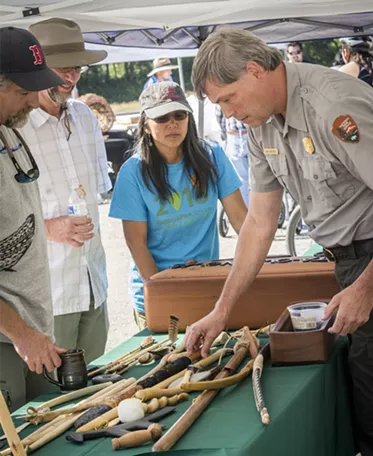 Mark Larson
Dale Webster, a Redwood National Park employee and Yurok tribal member, displayed several of his handcrafted traditional items.
Activities included horseback riding, hiking to the nearby Centennial Tree, storytelling, eating the submissions in the redwood forest cake contest, enjoying live music, participating in Junior Ranger activities and exploring a wide mix of exhibits and food vendors.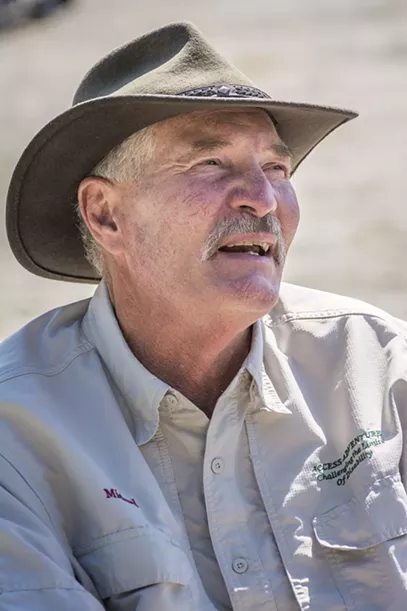 Mark Larson
Michael Muir, Napa, the great-grandson of conservationist John Muir and one of the guest speakers, described the the National Park Service Centennial as a "grand event."
John Muir's great-grandson Michael Muir
, of Napa, spoke at the Centennial event along with Sam Hodder of Save the Redwoods League and Congressman Jared Huffman. The Save the Redwoods League recently announced a plan to build a new visitor center on the former site of California Redwood Company.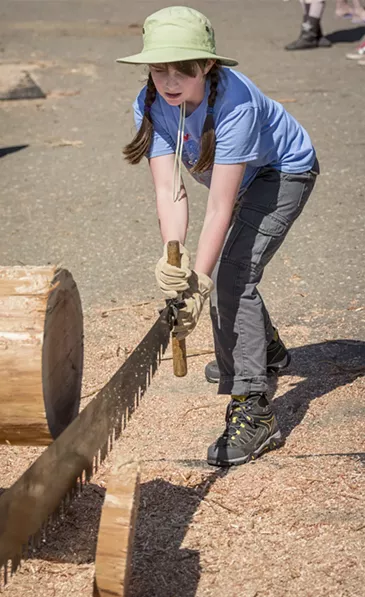 Mark Larson
One of the more popular activities was cutting a round with a two-handled saw from "second-growth redwood, obviously!", according to Megan Boyle, 9, Havre, Montana.
The 100th birthday of the N.P.S. was celebrated even though Yellowstone National Park and others were created decades earlier. Stephen Prokop, superintendent of Redwood National Park, attributed the vision of national park system to Stephen Mather and the Scottish-American conservationist John Muir.
Mark Larson
A woven basket used to catch Pacific lamprey, commonly called eels, was one of many items displayed at an exhibit of Yurok traditions. Eels enter the Klamath River to spawn and are part of the Yurok seasonal diet.
Redwood National Park was formed in 1968 and expanded in 1978. Prokop described the cooperative management of the Redwood National and State Parks with local Native American tribes, including the Yurok, Tolowa-Dee-Ni, and Elk Valley Rancheria.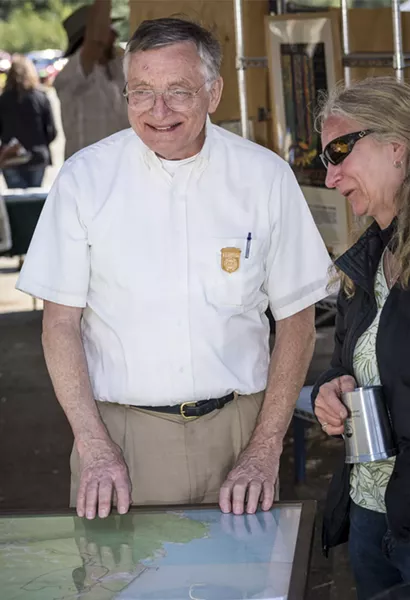 Mark Larson
Dave Van de Mark, Trinidad, displayed maps and photographs and shared stories of the efforts made by Lucille Vinyard, himself and many others to lobby for first the creation of Redwood National Park in 1968 and then its eventual expansion in 1978.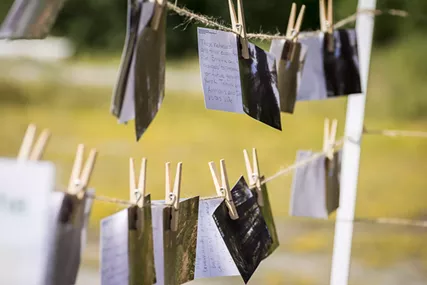 Mark Larson
Many of the visitors at the event stopped by a table to "Send a Postcard to the Future." Displayed during the event, they will be shown at a later date in the R.N.P. visitor center.