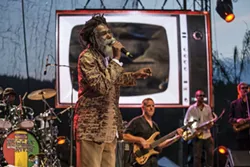 Pack your bags. Grab your trunks. Dread your locks. The most irie weekend of the year is right around the bend when French's Camp in Garberville transforms from quiet rural landscape to a reggae Mecca. Thousands of fans converge from Aug. 4 to 7 for the 32nd annual Reggae on the River ($200-$500).
Reggae music's biggest festival usually has an impressive array of superstars but word around the river is this year's roster is "the best ROTR lineup ever." So who's packing the concert bowl in 2016? Sizzla Kalonji & the Fire House Band bring the heat for sure, with Protogé and the Indiggnation Band, Anthony B, Mad Professor w/Soul Syndicate, King Yellowman, Million Stylez, Ziggi Recado, Sister Carol, Fatoumata Diawara, House Of Shem, No Maddz, Locos Por Juana and Bayonics keeping the vibe skankin'. With four days and nights of continuous music, there are too many to rattle off here. Catch the full lineup at www.reggaeontheriver.com.
In addition to the music, the culture at ROTR is a huge draw. There will be more than 60 vending and nonprofit booths, a hopping kids' spot, camping, great food and drink, yoga, massage and health and wellness offerings. And this year, environmental improvements to the gathering include the elimination of single-use plastic beer cups in favor of sleek ROTR steel pint cups. Also in keeping with reggae's global mindset, attendees are encouraged to bring a new or used tool to support the Tools For Change program, which last year sent a 40-foot shipping container of tools to rural communities in West Africa.