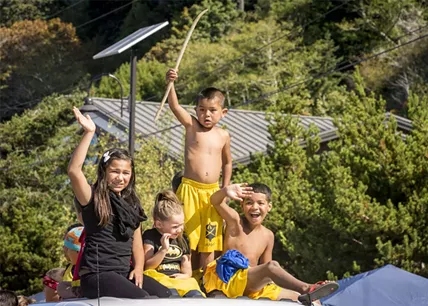 Mark Larson
The Klamath Stick game team represents from a truck in the parade.
For the first time in the event's history, the Yurok Tribe made a difficult decision to not have the traditional salmon lunch, cooked in the traditional way over an open fire, at this year's 54th annual Klamath Salmon Festival on Saturday, Aug. 20. Instead, the large crowd that attended had to make do with food trucks and stands with various cuisines — but no freshly cooked fish.
The salmon shortage was blamed on poor water management practices in the Klamath River, according to Thomas P. O'Rourke, Sr., chairman of the Yurok Tribe.
The morning parade featured a lot of "Un-dam the Klamath" and "Save the Salmon" signs on various floats and a mix of educational tables offered information about river restoration and fish habitat.
The festival included its usual live music, classic car show, cultural demonstrations, and Indian card game and stick game tournaments, along with several gift vendors.
20 slides