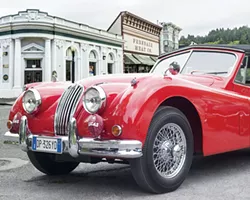 Photo illustration by Drew Hyland
Car enthusiasts, this week is guaranteed to get your motors running. From tricked out muscle cars to elegant vintage autos, Humboldt is gearing up to be a hot rod haven.
On Saturday, Sept. 3, the Clarke Historical Museum holds the grand opening of its Cars, Culture and Humboldt County in the 1950s exhibit during Arts Alive! at 6 p.m. (free). The show peeks under the hood to examine the impact cars had on Humboldt County life in the 1950s. Saturday's opening features rockin' tunes by Lizzy and the Moonbeams and tasty samples from Beer Kissed.
The following day, some very classy cars are rolling into picturesque Ferndale. The Victorian town welcomes the inaugural Ferndale Concours on Main on Sunday, Sept. 4 (free). The storied Concours d'Elegance event is a chance for the public to see exquisite auto craftsmanship — vintage cars in showroom condition — on display. Ferndale has a green light from the Sports Car Club of America to allow judging right on Main Street instead of the usual lawn. Organizers expect 100 vehicles and judging starts at 10 a.m. with trophy presentations at 2 p.m. Jeeves, get the car.
Both events should get you primed for Cruz'n Eureka, the annual fundraiser for the Boys and Girls Club of the Redwoods. It features a Sept. 9 showing of Bullitt at the Eureka Theater and runs through Sept. 10 with a barbecue, cruise, show and shine and street-legal racing.