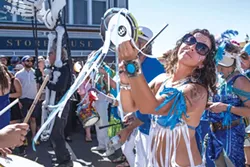 Every third weekend in September, the Arcata Plaza swells as thousands of revelers, families, dancers, artists, musicians, crafters and makers gather for the North Country Fair. This year, the fair falls on Saturday, Sept. 17 and Sunday, Sept. 18, from 10 a.m. to 6 p.m. (free) and promises all the usual fun by The Same Old People, plus a few new treats.
Arcata's biggest family-friendly party never disappoints, usually taking place under abundant sunshine. This year, there are 170 art and craft vendors, three entertainment stages showcasing 18 local bands, an assortment of local food booths, kids' activities, two parades and a drumline filled with community members. The annual Samba Parade on Saturday at 1 p.m. is led by Samba da Alegria, the hip-shakin', sparkly folks who have brought the tambourine and tight drums for the last 30 years. Sunday's All Species Parade, led by the Arcata Playhouse's large and small creature creations at 1 p.m., is also open to community members. And new this year is the addition of a Wellness Row, offering community health information, tea samples, massage and yoga both days.
The North Country Fair aims to be a zero-waste event. Helping in that endeavor is SCRAP Humboldt and its zero-waste kids' craft zone where kids (of all ages) can create something wild for the All-Species Parade with reused materials. Pitch in and bring your own pint cups for beer and refillable bottles for water.