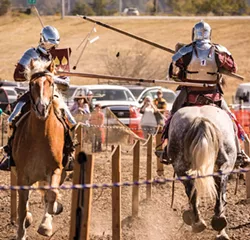 Things are about to get medieval on our grasses.
Shake out your chainmail. Wear some flowers in your hair. And head out to Christie's Ranch and Pumpkin Patch for the Medieval Festival of Courage, Saturday and Sunday, Oct. 1 and 2 from 10 a.m. to 5 p.m. ($5, $3 for kids 12 and under). The annual fall fundraiser for Coastal Grove Charter School Parent Organization is a two-day celebration of the harvest with a bustling market, fun games, demonstrations of skill, archery, jousting and more.
On Saturday, bring the kids early to meet the merry minstrels, fairies and knights of the village court for the Enchanted Village Tour from 10 a.m. to 12 p.m. (the first 200 children receive a special gift). Stick around to watch experts sling arrows during the horseback riding archery shows at 11:30 a.m. and 2:30 p.m. and full-contact jousting by the Knights of Mayhem at 12:30 pm and 3:30 p.m.
Sunday, don't miss the Coastal Grove student performances on the Main Stage at 10 a.m. followed by the children's medieval costume contest at 11:30. The jousting and archery shows are back at 12:30 and 3:30 p.m. and 11:30 a.m. and 2:30 p.m., respectively, as well as skill tournaments all day throughout the village.
Both days feature arts, crafts and food tents — including local grog from Mad River Brewing, Humboldt Honey Wine, Humboldt Cider and local vintners. All the favorites are back, too: caramel apples, Smokey Dragon Barbecue, bounce houses, boffer pits and fairy makeovers. What's new this year? The pirate ship is an official Pokémon stop – only two days out of the year to catch these particular guys. Also, special pony rides where young Arthurs and Morgaines can sharpen their knight skills on pony back!
Have fun mingling amongst the jousters and jesters, and face the metaphorical dragon, but please leave your dogs (literal) at home.