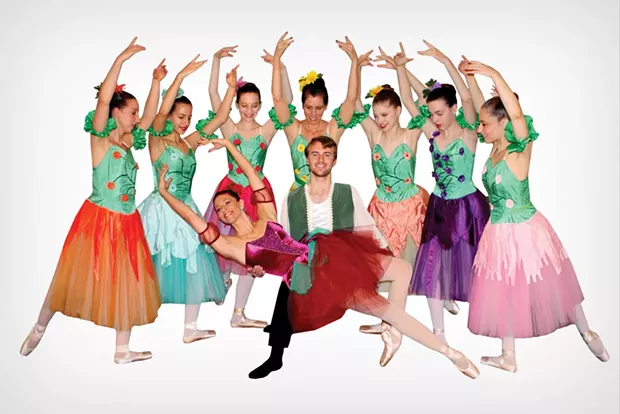 We are merrily making our way through December — up to our elbows in festivities, crafts fairs, concerts and parades. Humboldt's bountiful arts scene provides oodles of entertainment this time of year and plenty more nuts to crack.
One of the larger productions of the holiday dance classic is Sundance Ballet Company's The Nutcracker Ballet, playing Saturday, Dec. 17, with shows at 2 and 7 p.m. and on Sunday, Dec. 18 at 2 p.m. in the Van Duzer Theatre ($18, $15 kids, $15, $12 kids advance). This full-length production features new choreography by Artistic Director Carrie Badeaux, guest artists from the Bay Area and nearly 100 Dance Scene Studio students.
Trinity Ballet Academy presents Clara's Dream, Saturday, Dec. 17 at 4 p.m. at North Coast Repertory Theatre featuring traditional dances of The Nutcracker as well as dances of the First Noel. Trinity Ballet Academy's Youth Ballet Theater dancers, a group of students ages 11 to young adult, perform. Also performing are dancers of the academy's resident company, the Ballet Emmaus Project. For tickets and information call 839-1816.
And ... No Limits Dance Academy presents Candy Cane Lane, a holiday show featuring "colorful costumes, exciting music and spectacular dancing," on Saturday, Dec. 17 at 6 p.m. and Sunday, Dec. 18 at 2 p.m. at the Arkley Center for the Performing Arts ($12.50, $8.50 kids 3-12 in advance, $19 adults, $15 for kids 12 and under at the door).