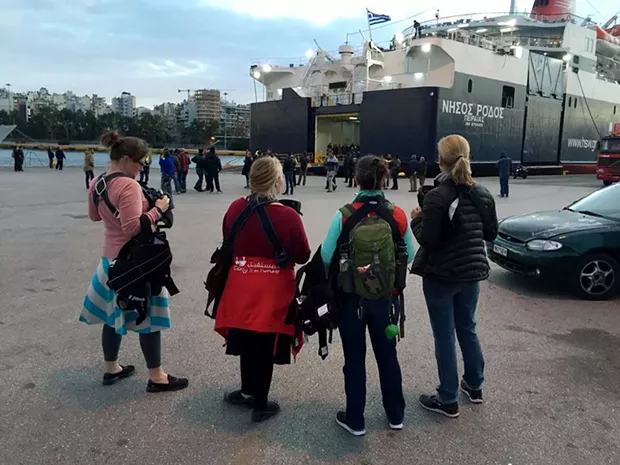 Photo by Sierra Leash
Rhythm for Refugees
In January of 2016, Sierra Leash traveled from Humboldt to Greece to volunteer with refugees fleeing to Europe from Syria and other war-torn countries. One year later she reports, "There are over 62,000 refugees stuck in Greece awaiting asylum or relocation, often living in unsafe and unsanitary conditions." Since returning home, Leash has continued to work with and support independent volunteers and grassroots organizations in Greece, and now brings the opportunity to our own community. Rhythm for Refugees, a benefit for Syrian refugee families in Greece, takes place Thursday, Jan. 19 at the Jam, starting with an all-ages portion at 5 p.m. and 21-and-up after 9 p.m. ($5-$15 sliding).
The event features live music by Altar Tones, The Brothers Norton, Arkaingelle and Ultra Secret with early performances by DJ Rotten, State of Mind and Abba Roots. There will be guest speakers, henna art, a silent auction and space to write a note or draw a picture to be delivered to refugee camps next month. Proceeds from the event will be donated to the Shelter House Project in northern Greece. The project provides studio apartments and support for 24 families who were previously living in refugee camps, a community cultural center for all children in the area and outreach for refugees living rough on the streets of Thessaloniki.
Rhythm for Refugees is a wonderful opportunity to enjoy live music, art and community while supporting an important humanitarian cause. As Martin Luther King Jr. said, "We may have all come on different ships, but we're in the same boat now."
— Kali Cozyris