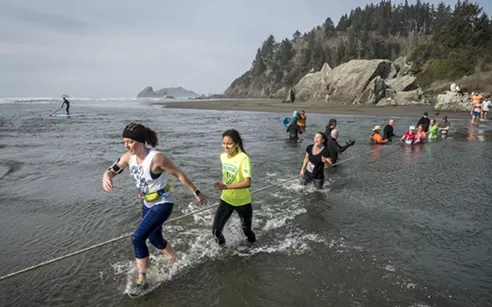 Photo by Mark Larson
Splashing across Little River toward the finish line.
Even at low tide, runners in the 52nd Trinidad to Clam Beach Run Honoring Ford Hess found crossing the Little River at Moonstone Beach a little more challenging in this non-drought year on Saturday, Jan. 28. The mild, sunny weather brought out a crowd to Clam Beach to watch the soaking-wet runners approach the finish line. The Marching Lumberjacks provided a little musical inspiration at the finish line before heading into the water themselves.
Runners participated in a newly added half marathon or 3-, 5 3/4- or 8 3/4 mile run/walks. The Trinidad to Clam Beach Run is sponsored by the Greater Trinidad Chamber of Commerce. Profits from the Run support the chamber's scholarship fund. Bundle up and view the slide show below for highlights.