Photo by Sam Armanino
Run the Jewels at the Van Duzer Theater on Feb. 5.
A sold-out crowd packed Humboldt State University's Van Duzer Theater last night, with hip-hop supergroup Run the Jewels headlining. (View the slideshow at the bottom of the post.) The crowd was young, jubilant and wreathed in smoke. Outside the venue, a line stretched across the plaza as people waited to be patted down by security. One very high young man tried to trade steaks for extra tickets.
"I got prime rib, prime rib," he said, waving a large plastic bag of meat as people waited patiently in the rain.
Inside, students elbowed their way through the packed aisles to stand next to the stage, where the group's security team stood behind ropes, looking bored.
Photo by Sam Armanino
DJ Nick Hook.
DJ Nick Hook started the evening with some unique beats and an unsubtle but popular chant of "Fuck Donald Trump," setting the tone for the evening — fierce, politically proactive and boisterous. Hook, a producer and collaborator on Run the Jewels albums, spun for two other artists, Cuz Lightyear and Gangsta Boo. Cuz, formerly known as SL Jones, was a torch of energy, spitting rhymes quickly as he stood on top of the speakers. But even his dynamism couldn't overcome the awkwardness of the largely white crowd when he tried to initiate a call and response using the N-word. But he finished his set to an enthusiastic crowd and was followed quickly by Gangsta Boo, a filthy-mouthed, fun breakout star from the Memphis, Tennessee group Three 6 Mafia. Boo's lyrics spoke to the nasty women in the audience as she unleashed fast-flowing raps about financial autonomy, Cookie Monster kush and the importance of cunnilingus.
Photo by Sam Armanino
Gangsta Boo of Three 6 Mafia fame.
The air was already thick with smoke when DJ and producer the Gaslamp Killer took the stage, dialing down the vibe with a slow jam mix before working the audience back into a jumping, lighter-waving frenzy. William Benjamin Bensussen — who takes his stage name from San Diego's Gaslamp District, where he grew up — is tall, intense and bearded, with a narrow ascetic face: Rasputin with a bouncing afro. He danced like an electrocution victim, occasionally lifting his T-shirt to wipe sweat from his face, flashing a pale belly. He rarely spoke during his set, leaning into the mic only occasionally to say, "I am the Gaslamp Killer," and to announce, "My grandfather is from Istanbul, Turkey," before introducing a beat using traditional Turkish music. The audience didn't need to be led to the message, responding with a loud cheer as the tempo increased and forming a mosh pit in front of the stage. They cheered even louder when he announced, "My grandmother is from Syria. Some Syrian music for my Syrian grandmother."
"Remember," he said before ending his 45-minute set with a Super Mario Bros. sound-infused mix, "We create the culture. Just because he rules the country doesn't mean he's in charge. We're going to create the best art."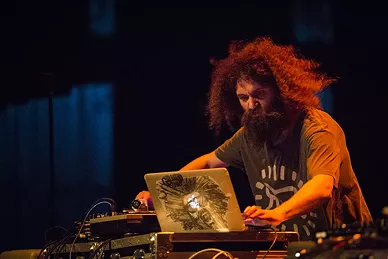 Photo by Sam Armanino
The Gaslamp Killer.
The Gaslamp Killer ended his set to an enthused and anticipatory crowd, who used the interval when the houselights came on to push even closer to the stage, chanting "RTJ" and clutching blunts. The duo is made up of rapper/producer El-P and rapper Killer Mike. Killer Mike, whose offstage name is Mike Render, has gained a reputation in recent years as an activist speaking out against police brutality and campaigning for Bernie Sanders. He and El-P (Jaime Meline) entered to a remix of Queen's "We Are the Champions," as the audience screamed and held up their hands in the signature gun and fist gestures that are Run the Jewel's logo. Lighters flicked across the theater and the venue filled with smoke. The rappers launched into "Blockbuster Night Part 1," with the crowd waving their hands in the air and singing along to Killer Mike's lyrics, "This Run the Jewels is/ Murder, mayhem, melodic music."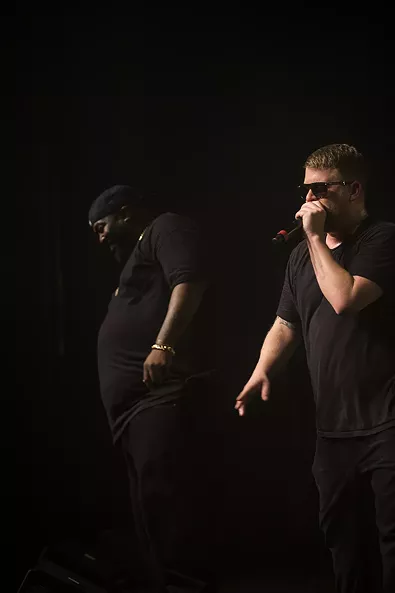 Photo by Sam Armanino
Killer Mike and El-P.
"This is what I live for," said El-P to the screaming crowd. He asked if they should turn up the bass, noting that as they were testing the sound system before the show their normal bass levels had caused the ceiling to flake. The crowd shouted yes, and RTJ launched into a series of songs off their latest two albums, including "Nobody Speak" (produced with DJ Shadow) and "Stay Gold." The ceiling stayed intact but was put in further danger when Gangsta Boo returned to the stage to join the duo. El-P led the crowd in chanting "Pussy is power," before delivering an impassioned and well-received speech about the current political administration.
"It just boggles my mind that we haven't replaced all of these goddammned pieces of shit men with women," he said, drawing screams of approval.
"It's mostly white men, I got to say," added Killer Mike, drawing more applause.
"You know these motherfuckers are only doing five things," said El-P, leading the crowd into the 2014 hit, "Lie, Cheat, Steal, Kill, Win."
"Go outside of your white liberal, Anglo-Saxon, Protestant circle," said Killer Mike in a recent Huffington Post
interview
. "Go find other people and become a part of movements that you don't lead. Go become a part of movements in which you have to learn from the people who have endured this ― since Reagan, since Nixon ― and you will start to see what they have had to do to thrive and survive. And you guys will learn and you guys will devise strategies together."
Once the smoke cleared, there's a chance some in the audience had found that movement on the dance floor.
18 slides