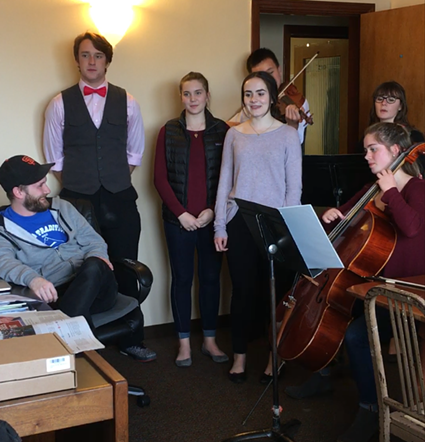 Jennifer Fumiko Cahill
The wandering Valentunes minstrels serenade our own Jonathan Webster.
Contrary to popular belief, not all of us here at the
Journal
are hardened, loveless cynics. Some of us work in production and graphic design, like Jonathan Webster. Witness his Valentunes serenading by fresh-faced members of the ArMack Orchestra/Arcata High Madrigal Choir at the behest (and paid order) of his girlfriend, Kira Weiss. The singers and musicians, on their annual fundraising mission, harmonized on "You Can Count on Me," which Webster actually arranged a couple of years ago while he was working at Arcata High School. Watch the video and give yourself a cavity from the genuine sweetness.