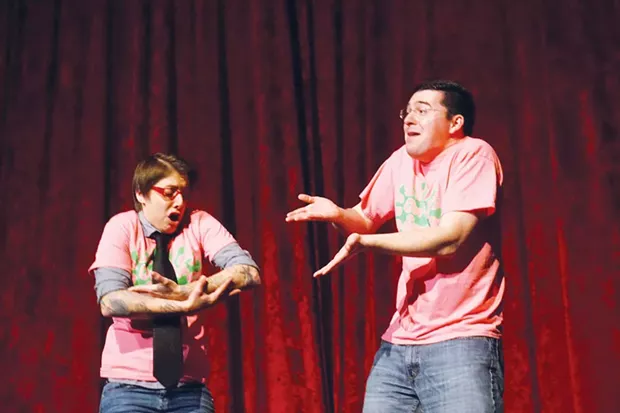 Photo by Patrick Rutherford
Ready to deepen the laugh lines on your face? Been a while since you've shot your beverage out of your nose? Get ready to do both. There's a new (ish) group of comedians bringing their brand of improvisational humor to the Arcata Theatre Lounge. Get ready to roll in the ATL's sloping aisles with On The Spot Improv Comedy #4 - For the Love of Laughter on Saturday, Feb. 25 from 7 to 9 p.m. ($7). We're told it's good, clean humor that you could bring your mom or a first date to. In fact, the kids are nice enough onstage that the ATL has asked them to come back on a monthly basis. Kudos, kiddos.
It's the group's first season as the group On The Spot, but all together they've been doing improv for a collective 15-plus years, so they know a thing or two about cracking jokes. Cast member Dev Richards describes their show as a short-form improv showcase (like Whose Line is it Anyway?) using audience suggestions and participation. Nothing is pre-planned or scripted. "We try really hard to keep our humor open and non-alienating," Richards says. "That is, we try to stay apolitical and make sure that the content of our shows doesn't limit our demographic ... Things are intense enough in real life and improv is meant to be a relief from that tension. It's a form of comedy that relies heavily on the concept of 'Yes, and ...,' which really translates to positivity, openness and genuine expression." Joining Richards in that positive expression are fellow cast members Matt Redbeard, James Schaeffer, Daniel Amaral, Hadi Ajina and Steve Nystrom, with Nuno Amaral as host, Carly Sharman as a featured player and Mara Schaeffer as the group's producer.
Things are a bit intense in real life. Lighten up with On the Spot.