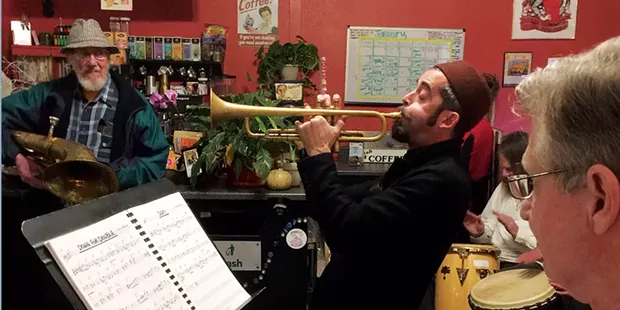 The Baraka-Leone Quartet: Don Baraka (sax/flute), Val Leone (guitar), Steve Phines (bass) and Doug Kamprath (drums) hosts Jazz Jam at Blondie's, Sunday, Feb. 26 at 6 p.m. Free.
It's time again for Song Village hosted by
Seabury Gould
at the Westhaven Center for the Arts at 1 p.m. this afternoon. Think about it as singing with your neighbors. If you have a copy of the songbook Rise Up Singing, bring it. This one's free so enjoy. The Jazz Jam is on the menu at Blondie's in Arcata at 5 p.m. for free. Host band the
Baraka-Leone Quartet
start the music up and then open the jam up at 6 p.m. It's free and, as I sometimes mention in regards to karaoke, just because you can, doesn't mean you should. Meaning just because you think your brandy-soaked kazoo playing sounded really amazing after your wife left you, that doesn't necessarily mean that you're ready to plow through "Autumn Leaves" with folks who can read music. But hey, do what you will. A star is in town tonight at Humboldt Brews: One-time Bob Dylan confidant — and "Midnight at the Oasis" super singer —
Maria Muldaur
is in our neck of the woods for an early 8 p.m. show. Grab a $20 ticket before they disappear. Also working with my favorite Syndicate Entertainment Marketing Agency is
Chicano Batman
out of Los Angeles, who were last up on HSU's campus, if I remember correctly. They'll bring their Tropicalia-influenced soul and psychedelia to the Arcata Theatre Lounge. Joining them are the trio
SadGirl,
who play some "lo-fi surf-wop" and, I'm told, sound like a "twisted marriage between Roy Orbison and The Cramps (ordained by Link Wray)," and "invoke the music of a by-gone era." Got it? Rounding out the bill are 79.5, who have three part harmonies floating over some funky R&B grooves. An 8 p.m. start time and $20 gets you in the door.