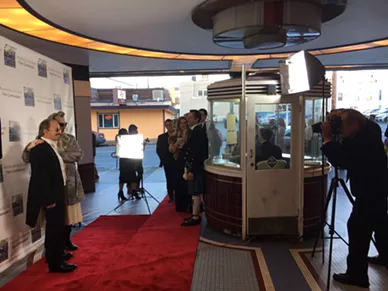 Jennifer Fumiko Cahill
Peter and Shirley Santino have a red carpet moment with photographer Jose Quezada.
Not everybody got everything right at the Academy Awards on Sunday night, between the envelope mix-ups, eye-rolling name fumbles and a couple of awards that were both questionable and did not win us the office Oscar pool. But we did get to see
Sara Bareilles perform
, so we're calling it a win.
And over at the Eureka Theater, guests at the annual Oscar-viewing party thrown with the Humboldt-Del Norte Film Commission were looking pretty trophy-worthy. Attendees sashayed through the lobby, cocktails in hand, to schmooze in their finery with Michael Dayvid playing in the background. Some trends from the evening to keep in mind for your next formal affair:
1. Boots, be they cowboy or motorcycle, go with everything.
2. Glasses and gowns are a thing. A very cool thing.
3. Hats, fascinators and ornamental clips up your game considerably.
4. Fur — faux or vintage (don't look at me like that; it's been dead for decades) — is the chilly shoulders solution you've been looking for.
5. Do not mail it in because you are a man. Live a little.
6. Spare nothing. Once back outside, it's rain and hoodies again. Leave it all on the red carpet.
Enjoy some fashion highlights from the evening in the slideshow below.
25 slides