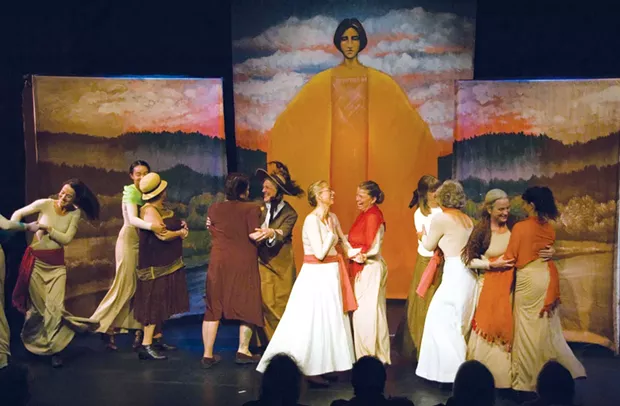 Courtesy of Arcata Playhouse
Women of the Northwest.
There's a fire of creativity that burns within each of us. If you want to stoke yours, the Zero to Fierce Festival (02F), a celebration of creative women in the community, offers tools and inspiration. The festival, presented by Playhouse Arts and running in and around the Creamery District March 2-11, is an "opportunity to discover, inspire and create" that fire through panel discussions, workshops, presentations, performances and more.
Participants navigate a chosen route following events that speak to health and self care, home and family, the environment and activism. Things kick off with the 02F Festival Opening Reception on Thursday, March 2 from 6:30-7:30 p.m. at Redwood Raks World Dance Studio with Champagne, snacks and swag bags. Later that night at the Arcata Playhouse, catch a revival of the original play Women of the Northwest at 8 p.m. ($15, $13 members/students/senior). The production, starring an all-female cast and band, is a montage of women's lives behind the Redwood Curtain and the Northwest region. It continues March 3-4 at 8 p.m. with a matinee on March 5 at 2 p.m.
And hey, on Thursday, March 9 at 1 p.m., catch the local media panel with the Journal's own Linda Stansberry, Kimberly Wear and Jennifer Fumiko Cahill as well as Sierra Jenkins of the Lost Coast Outpost (free).
For a complete schedule of 02F events, go to www.zerotofierce.com.