Photo by Mark Larson
Gator Nation led off the Friday evening music at the Adorni Center with an outstanding performance.
Last weekend the streets of Eureka filled with musicians and audience members who love good music and who love to dance. A packed, repeating schedule of performances of New Orleans jazz, blues, rockabilly and Cajun music by award-winning performers kept them and audience members rotating around venues at the Adorni Center, Morris Graves, the Eureka Theater, the Municipal Auditorium (with its poor acoustics), the Sequoia Center and a cramped room at the Red Lion Inn.
The musical talent all weekend was outstanding, with guest artist Brian Casserly seeming to appear with his trombone and trumpet with every group and at every venue on the schedule. Many young and old fans of dancing showed up for the festival, given its growing reputation as a dance venue, and worked up a sweat.
Thursday and Friday events included a series of free children's concerts, thanks to the leadership of retired teacher Lynn McKenna of Eureka. Thursday evening's kick-off dance featured talented local youth in the 24th straight music festival performance by the Zane Middle School Jazz Band, under the direction of Bruce McCay. Fifth graders from Grant and Lafayette grade schools performed their version of the Charleston and the traditional New Orleans Parasol Walk at the Friday Opening Ceremony, under the direction of McKenna and retired teachers Fred Johansen and Linda Hall. After that, the music performances rolled on for the rest of the weekend.
Enjoy the slideshow of Thursday and Friday events here and stay tuned for scenes from Saturday's dance contests, the blues special concert and Sunday's grand finale.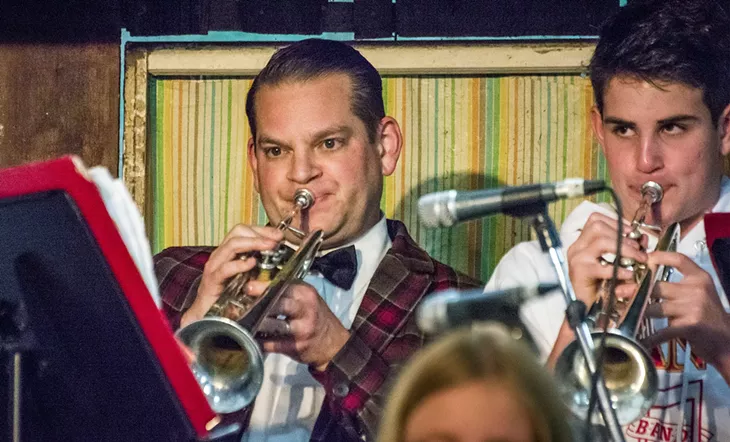 23 slides