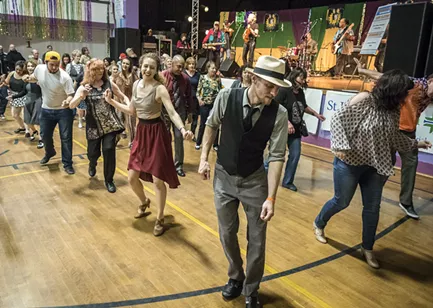 Photo by Mark Larson
Line dancers filled the floor at the Grand Finale at the Muni on Sunday afternoon.
The music and dancing started early and went late on Saturday and Sunday this past weekend at the Redwood Coast Music Festival. The musicians and audience members again circled Eureka venues throughout both days. (You can see photos of Thursday and Friday's festivities
here
.)
My Saturday goals were to watch the dance contests, catch Gino & the Lone Gunman for some rockabilly in a cramped Red Lion meeting room, eat an early dinner and stay out late with a big crowd at the Municipal Auditorium for the Blues Special.
The Blues Special did not disappoint. Prior to the show, organizers were stressed out because Michael Doucet's flight from SFO to ACV was cancelled — who would ever expect that? But the organizers announced he was driving up and he eventually arrived in time to make the show. Kenny Neal moved up to Doucet's 6 p.m. time slot and put on a fantastic show with his singing and guitar and harmonica playing.
The audience likely wouldn't have let Neal leave the stage if Doucet hadn't finally arrived and joined Tom Rigney & Flambeau in some virtuoso fiddle and violin playing in another great performance. Rick Estrin & the Nightcats closed out the show.
Sunday's Grand Finale at the Muni featured seven groups who demonstrated great musicianship, as well as the ability to make smooth transitions from group to group. The dance floor was packed for a two-hour display of amazing dance skills. Doucet and Rigney closed the festival with another round of fiddle and Cajun violin.