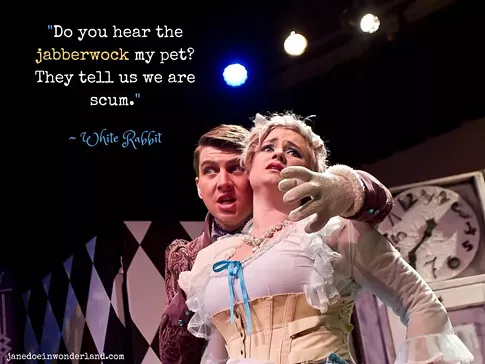 I've been a supporter of the Jane Doe in Wonderland project since playwrights Grace Booth, Erin Johnston, and Kate Tobie, in collaboration with Humboldt sex trafficking survivor Elle Snow, first presented it as a reading at Dell'Arte just about a year ago. Since then, it's matured into a powerful piece of theatre that journeys deep into the alternate universe that is sex trafficking in America today.
Alice in Wonderland was Elle Snow's favorite story as a child — she would stare at trees for hours, waiting for the White Rabbit to pop out and take her on a fantasy adventure. When she was 19, she finally met her White Rabbit; at first, the adventure was flattering and fun, but as soon as he took her on their first "romantic weekend away," her journey down the rabbit hole began. Within weeks, her body was being sold out of a brothel in the Bay Area and it took a very long time for her to climb back out into the real world to tell her story.
Drawing parallels with the looking-glass world of Alice, Jane Doe in Wonderland chronicles the psychological and physical manipulation these girls are subjected to as they gradually lose all sense of self and become invisible, seen only as faceless whores by a judgmental outside world. It's all too easy to see how vulnerable teens (60 percent of the teens trafficked out of Humboldt come from the foster system, and likely most come from abusive or otherwise dysfunctional families) can be seduced into believing there is a better world for them with this handsome young man. After all, in Humboldt, a fancy car, lots of cash and no regular job just means he's a grower — nothing to worry about there. And that's what the traffickers play on.
Each performance is followed by a talkback session with Elle and the cast and crew: Andrew Bayer, Grace Booth, GianCarlo Campagna, Erin Henry, Lynnie Horrigan, Ivan, Erin Johnston, Linn Haldrup Lorenzen, Tone Haldrup Lorenzen, Jared Mongeau, Drew Pannebecker, Brittny Renhuhn, Leif Schrecengost, Elle Snow and Kate Tobie. It can be a real eye-opener. At one performance I attended, a man in the audience declared that the traffickers are "failed men, who must be shamed by other men before they will stop." That's one of the reasons it's so important that Snow, through her
Game Over
anti-trafficking organization, has been training both male and female law enforcement personnel throughout the county — sex trafficking is not, and never has been, a "women's issue." It's a human issue and the second largest criminal industry in the world.
Jane Doe in Wonderland is being presented at several area high schools and youth groups, with the full support of the Sheriff's Office. Public performances are also scheduled at Humboldt State University's Gist 02 at 7 p.m. on April 8, and at 6:30 p.m. on April 12 at Eureka High School. More info and reservations at
www.janedoeinwonderland.com
.