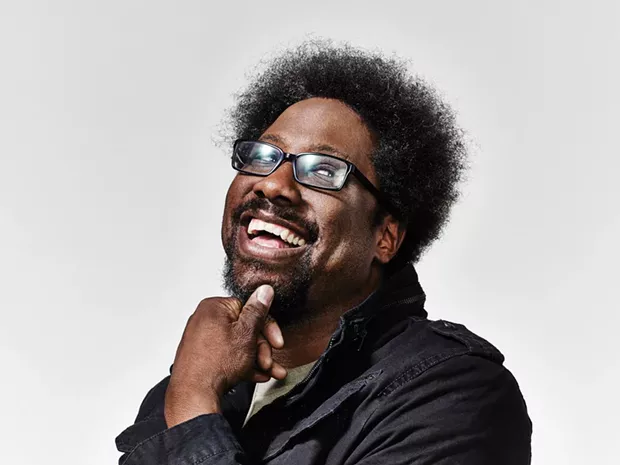 We've never been this excited for a PowerPoint presentation. On Monday, April 10 at 7 p.m., W. Kamau Bell brings his comedic lecture The Bell Curve: Ending Racism in About an Hour to the Van Duzer Theatre ($15, $5 HSU students). Sounds like a tall order, but the "socio-political comedian" and dad's CNN show United Shades of America is about to enter its second season, his book comes out next month and he's got three podcasts going, so maybe he can pull it off.
So why the presentation tool of sleepy seminars? Over the phone, Bell says, "Basically, what I'd seen John Stewart do, I wanted to do in a theater." Ignoring tutorials, he tossed together YouTube videos, slides and screengrabs to flesh out his irreverent — and definitely not boring — look at society. "Forget ending racism," he says, "I could fix a lot of people's PowerPoints really quickly." Expect to laugh and to be schooled.
Bell, who crisscrosses the country for his TV show talking to everyone from San Quentin prisoners to KKK members, isn't easily riled but he's not shy about his opinions. He says, "Everybody who decides they want to become a comedian ... there was a voice in their head that said You shouldn't say that thing you're thinking, and they were like, I think I'm gonna say it anyway." Steady yourselves, Humboldt — he's gonna say it.
Read more of our interview with W. Kamau Bell online this weekend at www.northcoastjournal.com.