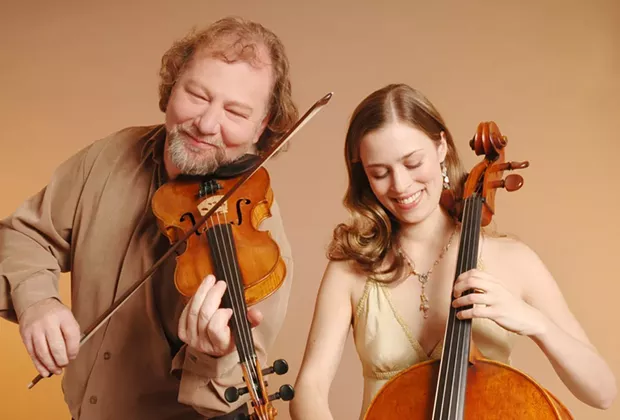 Courtesy of the Artist
Alasdair Fraser & Natalie Hass
An early show this afternoon sees PianoVoce at the Trinidad Town Hall at 3 p.m. This recital, I'm told, is based on From the Bohemian Forest composed by Dvoák and then Carlisle Floyd's Pilgrimage: Solo Cantata on Biblical Texts. PianoVoce is comprised of Annette Gurnee Hull and Nancy Correll on the Hall's Steinway piano, Carl McGahan singing baritone and narrator Richard Duning. A $15 donation supports the Trinidad Library. Bring the kids to sing-a-long with their favorite Beatles tunes at Six Rivers Brewery at 4 p.m. played by Humboldt's favorite Fab Four fans, Silver Hammer. It's a free show, but always feel free to tip. Fans of Scottish fiddling know the name of Scottish Traditional Music Hall of Famer Alasdair Fraser and most likely a former student of his and excellent cellist Natalie Hass. Well, we're in for a treat tonight as they are taking the stage at Ferndale's Old Steeple at 7:30 p.m. Alasdair is a master of the Scottish fiddle but can also easily hop between Irish fiddle and Appalachian fiddling styles as well. He and Natalie have an instinctive chemistry on stage and whether they're playing "The Highlander's Farewell" or "Grand Etang" you'll hear the heart of Scotland beating. Jig your way down to this $30 show. And for something completely different, '90s hip hop veteran Abstract Rude (touring to support mixtape Owl's Cry) is on The Owl's Cloud Tour along with B. Squid & Friends (supporting their own Cloud 9) and will be at The Miniplex in Arcata tonight at 9 p.m. for only $10.