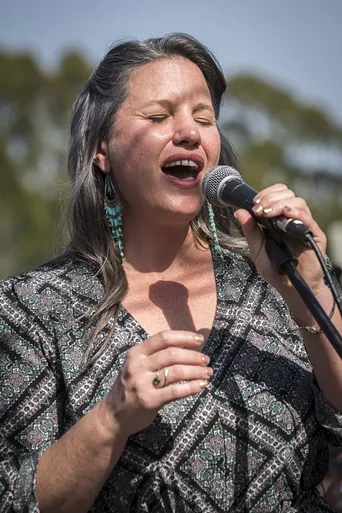 Photo by Mark Larson
Megan Hendley rang them bells at the Dylan to-do.
Highway 299 (OK, State Route) led to a great sunset view of the Blue Lake skyline for Wednesday night's seventh annual Bob Dylan Birthday Bash at the Mad River Brewery. All I really wanted to do was to drink a glass of cold hard cider, as I wasn't going anywhere else for the evening, and the music covers of Dylan's songs by the collection of local performers kept me in my seat all evening with long ago, far away memories.
Chris Parriera, local promoter and fan of the 76-year-old Dylan, organized the all-Dylan event as well as contributed his versions of his favorite Dylan songs. In her first appearance at the event, singer Megan Hensley, accompanied by Nate Zwerdling on guitar, led off the evening with sweet versions of "You Ain't Going No Where," "Most of the Time" and "Ring Them Bells."
Matt Brody, Leslie Quinn and Jeff Kelley followed, with Kelley giving an intense performance of "It's Alright, Ma (I'm Only Bleeding)." While written in 1965, its lyrics seemed most timely criticism of current American culture and politics.
Next, Les "Les Glen" Scharnberg sang a powerful version of "'Gotta Serve Somebody." Jan Bramlett and Morgan Corviday's voices blended beautifully in their duet covers of "I'll Be Your Baby Tonight," "It Ain't Me Babe" and "Pretty Sorrow." Rosalind Parducci followed with "Shelter From The Storm," while picking out her accompaniment on her viola.
The Yokels followed, with Steve Irwin providing terrific vocals and guitar on "Highway 61," "My Back Pages" and "Dear Landlord."
The Detours closed the night with the remaining songs from Dylan's
Nashville Skyline
album, led by vocals by Jake Wiegant, Rick Levin and Marc Jeffares. Mark your 2018 calendar for the next event on May 24 and put on a little Dylan while you view the slideshow below.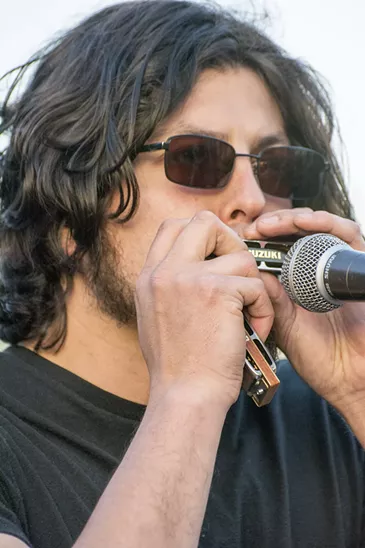 15 slides