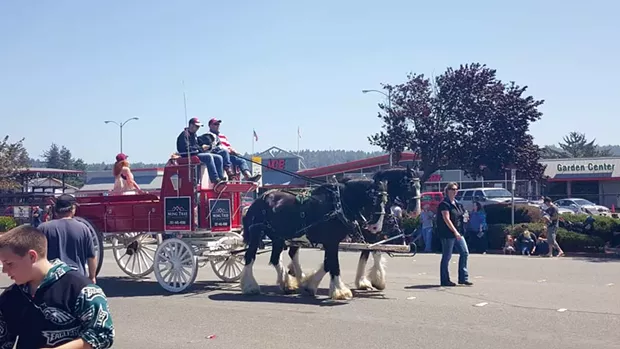 Has it been a year since we kicked the mud off our boots and polished our belt buckles for the parade down Central? Reckon so. McKinleyville, the town "where horses have the right of way," is rearing up to deliver five days of fun during Pony Express Days, happening May 31-June 4. The small-town celebration features a chili cook-off, barn dance, parade, pancake breakfast and all-day festival. Here's the roundup:
Pony Express Days Chili Cook Off on Wednesday, May 31 from 5:30 to 7:30 p.m. at McKinleyville Activity Center ($8). Sample the goods and vote for your favorite while enjoying live music, kids activities, a bake sale and more.
Pony Express Days Barn Dance on Friday, June 2 at 8 p.m. at A & L Feed ($10). Boot scootin' fun with live music, a boot contest, Six Rivers Brewery bar, food and more. 21 and up.
Pony Express Days Pancake Breakfast on Saturday, June 3, from 8-10:30 a.m. at Azalea Hall ($7 adults, $4 kids, free for kids 3 and under). A down-home breakfast benefiting the McKinleyville Girl Scouts and Boy Scouts.
Pony Express Days Parade on Saturday, June 3 on Central Avenue. (from Murray to School Road) at 11 a.m. (free).
Pony Express Days Festival, also on Saturday, June 3, from noon to 4 p.m. at Pierson Park (free admission). Horseshoe tournament, live music, kids activities, craft booths, tri-tip barbecue, food booths, Pony Express Saloon and more.
And while the Pony Express Race doesn't happen anymore, there's plenty of horse action at the Gymkhana (competitive horse games) on Saturday and Sunday at the Kjer Road Arena starting at 9 a.m. both days.