Jennifer Fumiko Cahill
Savory Grill and Cafe's winning oysters.
Upsets and new blood (brine?) marked this year' Arcata Bay Oyster Festival. As crowds swarmed the plaza, lining up for paper trays of oysters, judges (myself among them) sampled entrants in the Best Raw, Best Cooked, Best Non-oyster and, for the first time this year, Best in Show. The new Best in Show category, according to head Oystress Rachel Marella, keeps high-scoring entrants — sometimes a mere half point behind the winner — across categories.
While previous years have have left many wondering whether the Sushi Spot juggernaut could be stopped from another sweep, some new entrants nabbed top honors. The coveted Best Raw went to newcomer Savory Grill and Cafe for its oysters served in a molcajete cauldron and topped with carmelized onions, pineapple, red wine vinegar, cilantro, lemon juice, shallots, garlic, olive oil, cherry tomatoes and chives. And there's your recipe for Fourth of July, folks.
Jennifer Fumiko Cahill
Sushi Spot keeps the cooked crown for this creamy-spicy entry.
Sushi Spot stayed in the game for Best Cooked, serving up a showstopper of a barbecued Goose Point with a creamy, spicy-sweet topping of garlic-jalapeño aioli, honey sriracha, crunchy toasted garlic and green onions.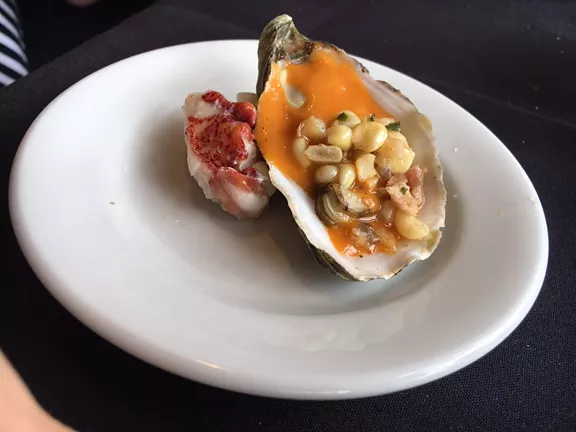 Jennifer Fumiko Cahill
A luxe lobster and Oyster dish from Five Eleven.
Five Eleven won Best in Show with a grilled Humboldt Bay oyster served with lobster sauce and roasted corn salsa, and a raw Humboldt Bay oyster with honeydew melon and cucumber gazpacho and golden trout caviar. (Its cooked oyster score was a mere .1 points behind Sushi Spot and the raw was .5 behind Savory's entry.)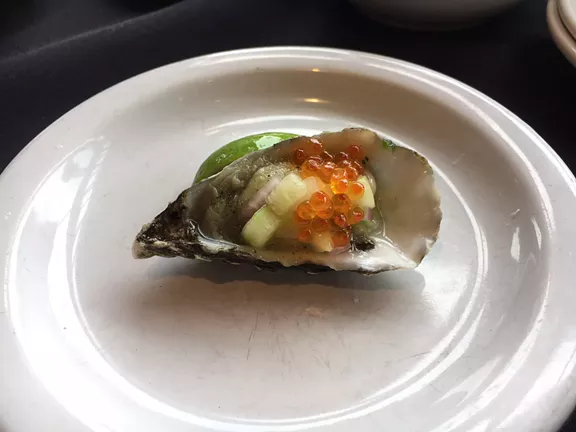 Jennifer Fumiko Cahill
Cucumber gazpacho on an Oyster from Five Eleven.
Salt Fish House, in its first year at the festival, took Best Non-oyster with a skewer of grilled octopus, cherry tomatoes and olives, with lemon vinaigrette and mint.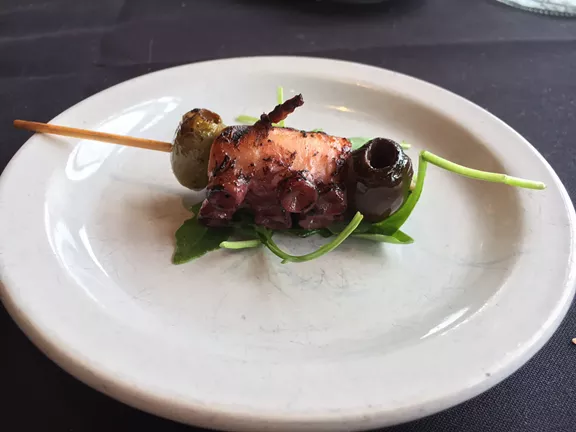 Jennifer Fumiko Cahill
Skewered octopus won Salt Fish House its first prize.