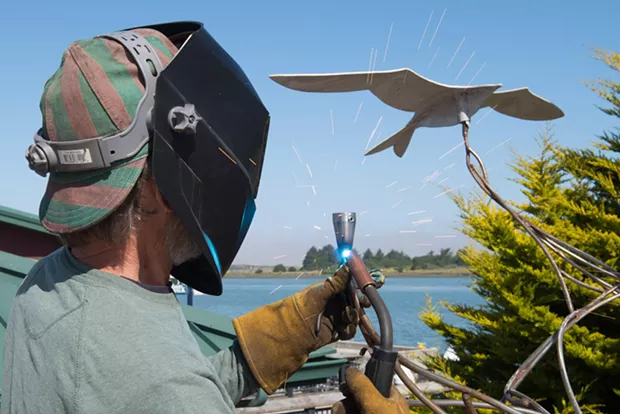 Mark McKenna
Jack Sewell sparks up the welding torch to put the bird back on "Keeping Up with Current Events."
You may recall that on Dec. 3, 2015,
some damn fool(s)
wrenched one of the 5 1/2-foot-long aluminum birds off Jack Sewell's "Following Current Events," kinetic sculpture at the C Street Market Square. The bird, which sat high up in the 23-foot-tall piece, never was returned. However, after a year of working to secure funding from the city of Eureka through Parks and Recreation and the help of fabricator Fortuna Iron, this morning Sewell climbed a ladder, put on his welding mask and soldered a new bird onto the sculpture. It took three hours but now the bird is firmly attached to its perch, the bearings of which also had to be replaced so it can swivel as the piece rotates in the wind.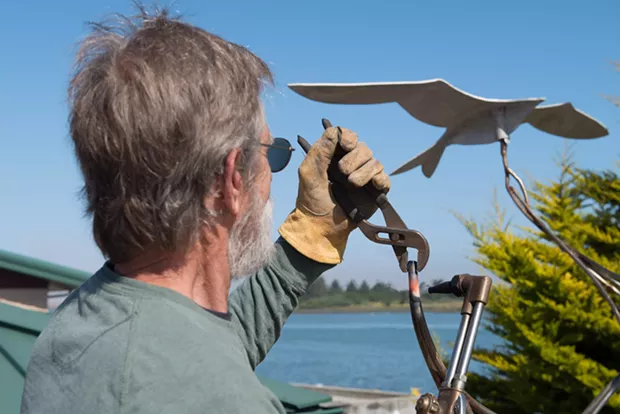 Mark McKenna
The reattachment went smoothly but Sewell isn't eager to do it again.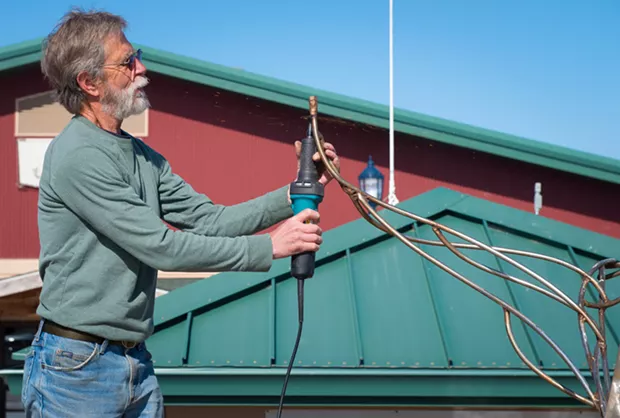 Mark McKenna
Jack Sewell repairs the mount for the replacement bird for his sculpture.
"I'm crossing my fingers and hoping it will last," says Sewell. For now at least, he's happy to see the piece back to its original form and not unbalanced as its been for the last year and a half. He's just hoping it stays that way. Sewell's laugh turns into a sigh. "I don't want to have to do it again."