Anthony Westkamper
A scene from the past today, a Common White Tail on a Scouring Rush Horsetail.
Three hundred million years ago, when the world was a hot swamp and the air carried twice as much oxygen as it does today, it is very likely a Griffinfly landed on a horsetail (the plant that was around back then, not the equine anatomy which was not). At the time they were the dominant aerial predators. Some Meganeurids, the largest flying insects of all time, had wingspans up to 28 inches.
These extinct giants weren't truly the dragonflies of today, but are considered to be either ancestors or relatives of them.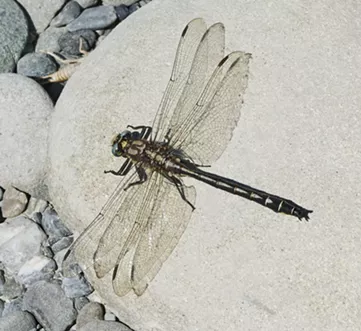 Anthony Westkamper
A Pacific Clubtail.
The other day a common whitetail (Plathemis lydia) with a wingspan of about 4 inches, landed on a Scouring Rush (Equisetum) in front of me, recreating in a small way that scene from the Permian era, a time before bats, birds or even pterodactyls were around to contend with them for supremacy.
Anthony Westkamper
A Red Veined Meadowhawk.
Venturing a bit farther up the Van Duzen River than usual, a small red dragonfly flew up and perched on a stick close to me. At first glance, it looked like a cross between a Cardinal Meadowhawk and a Variegated Meadowhawk, two species that are very common hereabouts. It was a cooperative subject so I took several photos. When I downloaded them and looked it up, I found it was a Red Veined Meadowhawk (Sympetrum madidum), a species new to me. An online friend verified my identification, and I made a little mark in my book adding another species to my "life list."
Anthony Westkamper
A Red Veined Meadowhawk.
Finally, a Pacific Clubtail (Gomphus kurilis) perched on a rock and allowed me to get a couple of shots. I guess they had sticks and stones back in the Permian Era too.