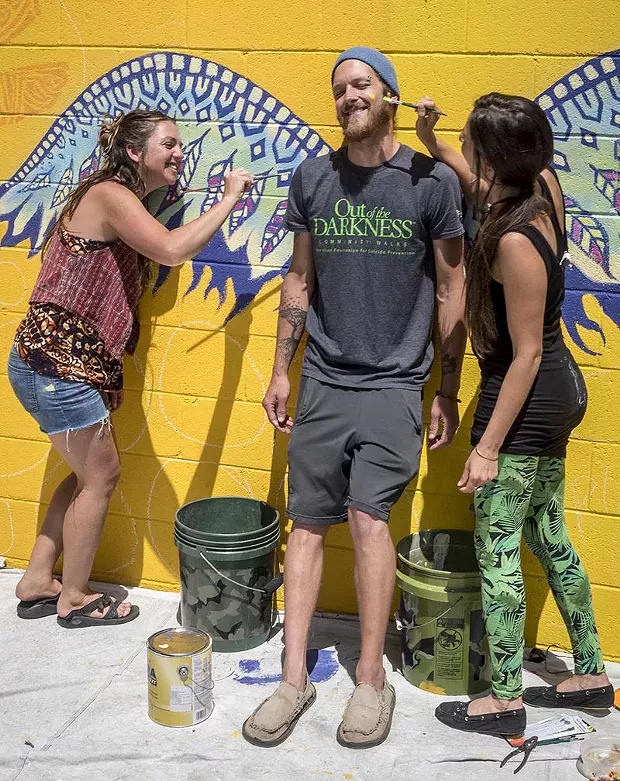 Photo by Mark Larson
Playful Magic members Veneta Nikolova (right), Joe Hessenius and Liz Ferrie painting at Angels of Hope.
Community Paint Day turned lots of would-be shoppers into artists helping paint a mural at the Angels of Hope Thrift Store on Saturday, July 29 in Arcata.
"I just came by to shop at the thrift store, and they gave me a paint brush," said Jessica Young, of Arcata.
"We were at the store to look at furniture so this was a surprise," said Colleen Clifford, of Manila. "The ugly, bland building gave the artists a good place to work."
"We've been walking by every day this week watching them work," said Amy Rebstock, of Arcata, "and today they just invited us to join in."
Playful Magic members Veneta Nikolova, Joe Hessenius and Liz Ferrie, all of Arcata, spent the afternoon inviting community members to add their own personal touches to the mural. Check out the slideshow below to see how it turned out. The trio donated their skills to the week-long collaborative project through Playful Magic, their local organization with the goal of building community connections through fun and artistic experiences.
"Our original idea was to work with the YouthAbility nonprofit and involve foster youth, but it got too complicated," said Ferrie. "Our goals evolved to just do the mural ourselves to brighten the neighborhood and, by doing our first mural, to gain credibility for our future attempts to get grant funding to do more murals."
Jason McKinney, assistant store manager at Angels of Hope Thrift Store at 1309 10th St., said it all started when the artists came by and pitched the idea to
YouthAbility
(owner of the store). "We then sought our landlord's approval for permission to paint the wall. We like the vibrant, bright eye-catching piece of artwork in the mural. It's a great addition to the Creamery District."
"Our first design the three of us created was a flying giraffe, but we realized that was a little too extreme," said Nikolova. We ended up with kind of a phoenix-like hummingbird, symbolizing a rebirth and fluttering of the heart."
"I really support this project and hope for it to be the first of many to come in this community," said Gypsy Rader, of Arcata, who joined in the painting with her daughter, Bizou Massias. "The original paint job was dark and gloomy and­ this mural makes the building a more inviting place in the neighborhood. They turned something just blah into a more beautiful and inspiring place."
Speaking for the Playful Magic trio, Ferrie said, "we're open to anyone who would like a mural painted on their building. We'll also be looking for grants to help cover the costs."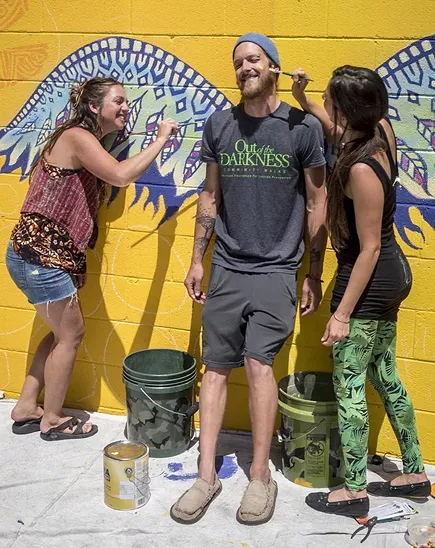 8 slides