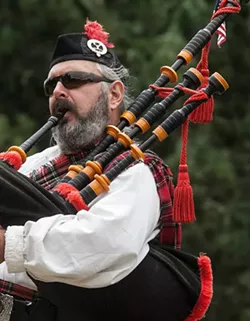 Submitted
Frolicking in the Glen
The North Coast Scottish Society's annual Frolic in the Glen and Highland Games are back in full kilt for more high-stepping, haggis-eating fun Saturday, Aug. 12 from 10 a.m.-5 p.m. at Rohner Park (free admission, $5 admission to heavy athletics competition in the rodeo area).
The frolicking kicks off at 10 a.m. with the Piper's Call by Humboldt Highlanders Pipes and Drums and continues all day with events the whole family can enjoy. Bring the kiddos, too? Yes, we clan.
The event is a great way to learn more about Scotland and Celtic history. There'll be historical reenactments, clothing demonstrations, weaving, piping and drumming and for good fun, the popular Beard and Bonny Knees Contest. In the Village Marketplace, peruse Celtic-themed arts and crafts booths and pick up a kilt (that doesn't have someone in it) or some chain mail for that special someone. And to fortify you for your turn at the wellie toss, there's haggis and other Scottish food, fish and chips, hot dogs, drinks and more.
New this year is the Scottish Heavy Athletic Association Heavy Athletics in the rodeo arena/grounds. These games are a big deal — they're a full competition like the ones held at larger divisional highland games — and feature a stone put, a regulation-size caber toss (that's the big, big one), a hammer throw and heavy weights thrown aboot. A real clash of the tartans.
And if all that isn't enough, Gatehouse Well, Good Company, Michael Ross and the Millbillies, Ukaleleians and the Academy of Irish Dance will keep things lively all day with music and dancing.