Photo by Erica Botkin
The sun glints off a woman's necklace in the concert bowl, Sunday afternoon.
Instagram-ready festival wear has become its own species of personal expression. The styles at Reggae on the River are certainly qualify, whether on performers, fans or the vendors, workers and volunteers who make the show possible, including volunteer security personnel, medics, food truck operators, cooks, camera people, sound technicians and journalists.
Photo by Erica Botkin
A camera operator at work during Marla Brown's set on Sunday afternoon.
Oven-like August temperatures presented a daily challenge. There are basically two schools of thought on how to beat the heat — let's call the debate Shirts v. Skins. Layer flowing fabrics? Or do away with layers altogether by wearing as little as possible? Both were in effect. (See the slideshow of the gamut of looks below.)
The nearly naked look was having a moment. For men, the dress code was low-slung shorts with underwear waistbands peeking out. Many women paired the briefest of bikinis with gladiator sandals and flowing head wraps that made them look like extras from David Lynch's
Dune
. A few pioneers summoned the spirit of Brazilian carnival by going topless. Many outfits were accessorized with strands of jingling beads and areas of sparkly, strategically placed body paint.
Photo by Erica Botkin
DJ Paradigm and Ona of KMUD Redwoods Community Radio in the press tent, Sunday afternoon. DJ Paradigm hosts the Rankin' Reggae Rotation on Saturday nights. Ona hosts the show "63 Miles to Sunrise" on Tuesday mornings.
As Coot Wyman of Mystic Roots told the crowd during his set, reggae music has expanded beyond its Jamaican origins and "cross-pollinated into every country in the world," with multi-ethnic musicians from Maui, London, Costa Rica and Chico setting their own patois to Jamaican
riddims
. Reggae fans' fashion reference points were just as diverse. World beat peacocks shook their tail feathers in the concert bowl. Dancers pumped decorated parasols in the air as if they were marching in a New Orleans second line.
Some paired Andean ponchos with West African cotton prints. Two different types of hand-woven conical hats were hot this year: tapered Fulani hats from Burkina Faso, as well as the straight-sided ones traditionally worn in Cambodia and Vietnam. The Rastafari colors of red, green, black and gold were ubiquitous, and it seemed like the eyes of Bob Marley were upon you every time you turned around — staring out from backpacks, T-shirts, wraparound-sarong skirts, naif paintings, hand-carved beads, souvenir posters, programs and tattoos.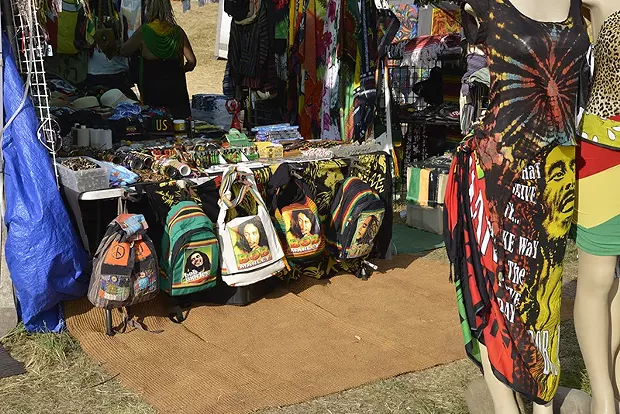 Photo by Erica Botkin
Bob Marley's likeness continued to be popular on backpacks and other merchandise items, like the ones photographed here Sunday afternoon.
Volunteers helped festival goers strike the sometimes elusive balance between personal expression and personal responsibility, handling situations as they arose with a patience that cannot have always been easy to muster. Hand painted signs posted all over the premises urged reggae fans to "smile" or pointed out that "the river is not your toilet." "Look around you, find one piece of trash and put it in the garbage can," a voice over the loudspeaker pleaded Sunday mid-afternoon. "Just try it; it's a thing we do."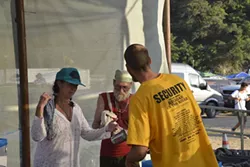 A young volunteer at the backstage entrance lamented that keeping order could sometimes be a thankless task. When an unmannerly woman looking for her errant husband got mad because she couldn't come backstage without a wristband, "she cussed me out," he noted sadly, "even though I was just doing my job."
By the middle of the day, when temperatures had reached their peak, a shirtless dancer laid down in front of the stage and stopped moving. Volunteer medics were on the spot, readily identifiable as such because of the red cross insignia on their uniforms. They spritzed the man with water and draped him in tie dye scarves against the sun. With cheerful efficiency ("Jah bless!") and no small amount of tact, they persuaded the object of their concern to accept an ATV ride to a shadier spot in the medical tent.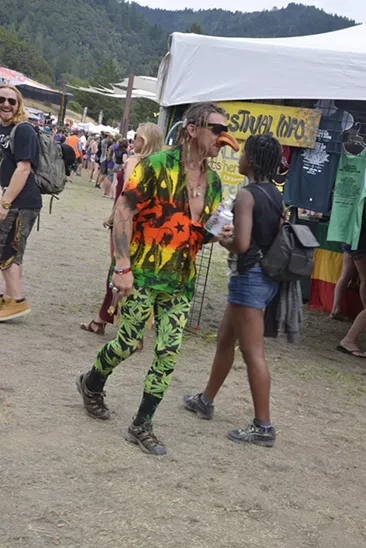 30 slides