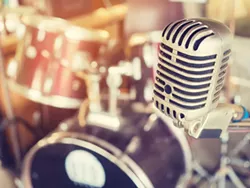 Here in Humboldt, we have a chance to see the partial solar eclipse, which, admittedly, won't be as cool as seeing the total eclipse. But we'll also be spared sitting in traffic for hours on end and camping outside booked hotels up in Oregon. With that said, check it out from around 9 a.m. until 11:34 a.m. Let's hope the clouds give us a view and remember not to stare directly into the sun. Believe it or don't, but it'll still fry your eyeballs just like it will every other day of your life. Pick out some good tunes to listen to during the eclipse. Perhaps
Dark Side of the Moon
, "Total Eclipse of the Heart",
Pink Moon
,
The Moon and Antarctica
, "Black Hole Sun," etc. (Maybe on headphones.) The Logger Bar is opening early for an eclipse party, so if you'll be getting drunk before work anyway, why not stop by? Blues heavyweight
Coco Montoya
is playing an early show at Humboldt Brews tonight at 8 p.m. Taught by the "Master of the Telecaster" Albert Collins, Coco has risen to the top of the contemporary blues scene and cut his teeth with John Mayall and the Bluesbreakers early on his career. Get in to this intimate show for only $20 and get home at a reasonable hour.